If you're an Oakmont newbie or considering a new custom Florida home in Gainesville's top master-planned community, here's a suggestion for learning about your new hometown and its surroundings: the Dial and Discover Audio Tour.
Also known as the Dial and Discover Cell Phone Tour, this audio experience guides listeners down the Old Florida Heritage Highway,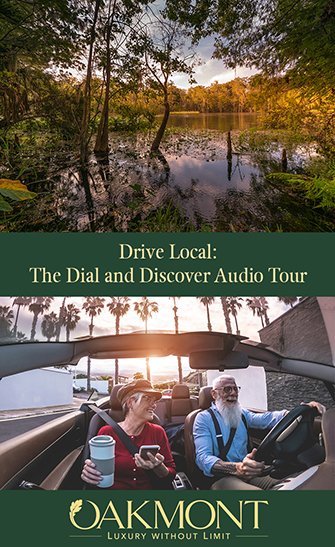 a 45-mile drive south of Gainesville. Participants hit the road at their own pace and use their phones to access audio information about interesting and historic locations in Gainesville and Alachua County.
This part of north central Florida is full of history and natural beauty. Along with being the hometown of the University of Florida, Gainesville is a lively, bustling city bordered by some of the state's loveliest recreational resources and picturesque sights.
It's worth taking an afternoon or a day to cruise these back roads, read historical markers and sample local eateries.
Here's our guide for how to do the Dial and Discover Audio Tour.
Dial up, then listen up
This innovative audio tour resembles the type of self-guided audio tours used by museums and similar attractions. It's the result of a collaborative effort between the Old Florida Heritage Highway, Gainesville's parks, recreation and cultural affairs department, and Alachua County, with assistance from Visit Florida.
To use the Dial and Discover Audio Tour, download this printable guide for reference. It contains the numbers for each stop along the Dial and Discover Audio Tour and a map of the route.
Second, plot your route. Decide if you'd like to tackle the entire tour in one day, or on a series of weekend days.
Third, once you're on the road and reach your first audio-tour destination, dial 352-327-9005, enter the tour-stop number from the printed guide and press #.
Fourth, note which locales you'd like to return to for more exploration.
Wash, rinse and repeat!
Where you're going on the Dial and Discover Audio Tour
The Old Florida Heritage Highway is one of the Florida Department of Transportation's 26 designated scenic highways. The scenic-highway program highlights these routes' historical, geological, natural and cultural resources.
All these attributes and more can be found on the Old Florida Heritage Highway, which is one of six scenic routes in the program's northern region. It encompasses County Roads 325 and 346, where audio-tour participants journey past gorgeous rural landscapes, rivers and lakes, and the historic towns of Cross Creek, Micanopy, Evinston and Rochelle.
The Old Florida Heritage Highway includes sections of the Bartram Trail and Chiles Trail, two of the state's most famous walks (by naturalist William Bartram in 1774 and former governor and U.S. senator Lawton Chiles in 1970).
Wildlife sightings are abundant, from waterfowl to the wild-horse and buffalo herds at Paynes Prairie State Preserve. Selfie spots and photo fodder abound. Score a snack or meal in Micanopy, which offers the most choices of food and drink.
Ready for your Oakmont lifestyle? Talk to us here.