If you've lived at Oakmont for a while, you likely know your way around the Gainesville, Florida area, and have sampled fun things to do and places to visit.
The north central Florida city teems with sports and outdoor recreational opportunities, a strong arts community, and medical, research and educational resources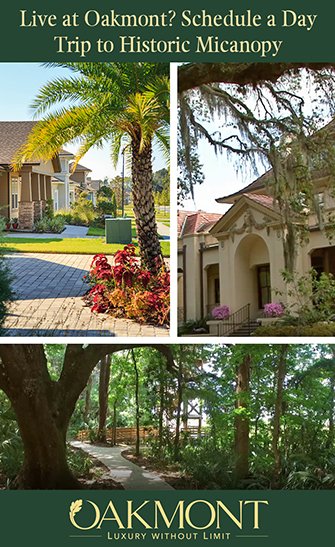 thanks to being the home of the University of Florida.
There's never an activity shortage, and Gainesville's ongoing residential and business growth fuels the creation of more museums, events, and shopping and dining, among other options.
But even if you're tenured Gainesville resident, you might not have journeyed to the southeast corner of Alachua County, to the historic hamlet of Micanopy.
Its pronunciation can be intimidating ("MIK-i-NOH-pee"). Don't let that stop you from trying, or from visiting!
Here's why you should schedule a day trip to Micanopy.
What and where
The small town dates to 1821, the same year the United States acquired Spain's Florida territories. It's the state's oldest inland city and is named for the Seminole Indian chief Micanopy, who oversaw the land during that era.
Nowadays, many buildings in Micanopy's downtown district are on the National Register of Historic Places. It remain a slice of Old Florida shaded by massive live oak trees and palms, but with a hopping enclave of antique shops, restaurants and artist studios.
Micanopy is so picturesque that it starred in the 1991 movie Doc Hollywood.
And, it's only 20 miles from Oakmont. To get there, head east to Interstate 75, then south. Look for the Micanopy exit just south of Paynes Prairie Preserve State Park. Turn left off the exit ramp and follow the signs.
What to do in Micanopy
Think you'll be bored in this small town? Think again.
You easily can spend a day on Cholokka Boulevard, Micanopy's main thoroughfare. Street parking is plentiful, although seasonal festivals will necessitate an early arrival, and local restaurants will feed you right.
If you're still furnishing your Oakmont home, or seeking some fresh accents, roam Micanopy's many antique shops. Most are housed in historic buildings, so you'll get a dose of the past along with your treasure hunt.
Here's a sampling: try Winters Past for retro clothing, jewelry and accessories, or Micanopy Modern for mid-20th-century home furnishings. Shady Oak Gallery & Stained Glass Studio rounds up work from area artisans, plus offers stained-glass art classes.
How to refuel
You're so lucky!
Blue Highway Pizzeria on nearby U.S. Highway 441 is one of the Gainesville area's top pie places — original, handmade and brick-oven-baked.
Pearl Country Store & Barbecue, also on U.S. 441, is another local institution that attracts folks from everywhere for its 'cue, big breakfasts, homemade deserts and community gathering spot.
Back on Cholokka Boulevard, grab ice cream, sandwiches, cool drinks and other yummy choices from the Old Florida Cafe, Coffee N' Cream and Mosswood Farm Store and Bakehouse.
Ready for your Oakmont lifestyle? Talk to us here.