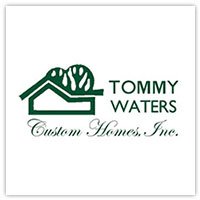 Tommy Waters, along with his wife, Beverly, and their three children, are proud to call Gainesville home. Born and raised here, Tommy completed his first home at age 17, and he participated in his first Gainesville Home Builders' Parade when he was 18.
Now, over four decades later, Tommy continues to build Gainesville's most beautiful and distinctive residences; a commitment to build the finest custom homes in today's marketplace.
The Tommy Waters brand is synonymous with superior workmanship and attention to detail. A second generation family builder, Tommy personally designs and builds functional, aesthetically pleasing, energy efficient homes that suit a buyer's individual lifestyle. His degree of professionalism within the building industry is unrivalled.
Through a series of meetings, Tommy personally works with his clients to evaluate and then determine their personal needs and desires. He works diligently to incorporate these factors into both the design and construction phases of the home building process. He prides himself on his "Complete Commitment" to every home bearing his name. Tommy, his son, Derek, and his crew strive for an open and approachable rapport with each client.
Tommy is available to answer questions and make suggestions as a client's needs evolve during the construction of their new home. He is committed to building a budget conscious, quality custom home that meets every expectation. A combination of superior architectural design, quality finishes, luxurious features, and energy efficient construction ensure you the finest upscale residence available. Client satisfaction from the initial design stage to the final walk through is guaranteed.
For more information, a complete plan list, information on move-in ready homes and the most up-to-date pricing, please visit TommyWaters.com.
You can also visit Tommy Waters Custom Homes on Facebook and on Instagram.