Ready for another in our series of posts on fun things to do in the Gainesville area?
Let's tackle nearby Paynes Prairie State Park, which was Florida's first state preserve because of its staggering beauty, geographic diversity and history.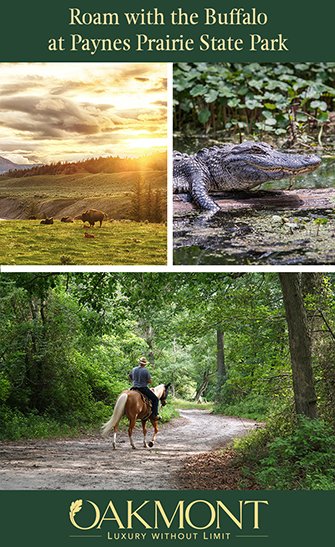 If you're an Oakmont resident who wants to explore your own new territory, Paynes Prairie also offers modern-day fun along with the serious preservation stuff.
Want to see herds of wild bison? Horses? Alligators on their turf?
How about attending early-evening yoga workouts at the park's visitors center? Taking weekly juggling lessons? You can do this and much more at Paynes Prairie.
Let's go where Florida's very own buffalo roam.
Paynes Prairie is convenient to Oakmont
From your new custom Florida home, you're only 17 miles or a half-hour away.
Paynes Prairie is located next to the small, old-Florida town of Micanopy (another place to explore and Oakmont blog you must read). Jump on Interstate 75 and head south. You'll cruise right through the park — a big roadside sign says so — but you want the next exit (Exit 374, for County Road 234). Turn left off the exit. Follow CR 234 to U.S. Highway 441 and turn left.
You'll see signs for Paynes Prairie. It's located off U.S. 441, at 100 Savannah Boulevard. The entrance fee is $6 per vehicle.
Paynes Prairie is special
You probably did a lot of research for your move to Oakmont and the Gainesville area, so we'll assume you know this part of north-central Florida is stocked with outstanding natural resources and recreational options.
Paynes Prairie is loaded with both. Its wetlands, forests, hardwood hammocks, lakes, marshes and ponds are home to hundreds of species of wildlife. Its setting is perfect for people too — fishing, kayaking, canoeing, camping, riding horses, or hiking and biking its eight trails, for example.
In some spots, you may glimpse traffic zipping along I-75 to the west and U.S. 441 to the east. But you'll feel like you're in this vast, lush wilderness thanks to its watery wonderland and quietness, and you won't be the first to experience such a retreat.
A Seminole Indian village once thrived in the same location. Naturalist William Bartram noted the same awe when he passed through in 1774.
Do the fun stuff at Paynes Prairie
Yep, go fish Lake Wauberg. A 16-mile portion of the paved Gainesville-Hawthorne State Trail passes through Paynes Prairie, and if you opt to jump on it or others, know that pets are prohibited on some trails.
Check at the visitors center for where buffalo and wild horses roam. Climb the nearby 50-foot observation tower.
Juggling workshops take place on Thursday evenings at the visitors center. The yoga workshops, open to families and folks of all experience levels, are on Wednesday evenings.
Make Paynes Prairie your favorite place to roam!
Ready for your Oakmont lifestyle? Talk to us here.