While many people move to Florida for its mild year-round climate, those who move to Gainesville may be pleasantly surprised by its seasonal changes.
The north central part of the state experiences occasional cooler,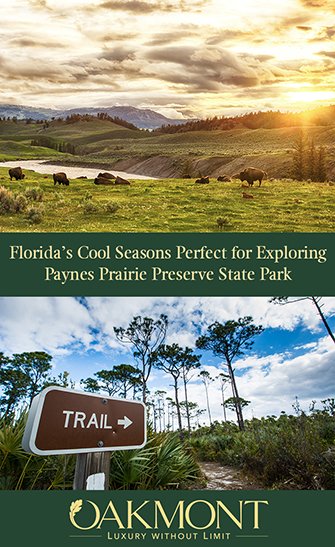 drier air in fall and winter, which means it's a prime time to explore the surrounding natural wonder and beauty.
You'll be ready to maximize these outdoor opportunities when you build or buy your new custom Florida home at Oakmont. It's Gainesville premier master-planned community, conveniently sited on the city's growing west side and offering its best resident amenities.
Oakmont provides an unbeatable base from which to explore the Gainesville area's freshwater springs and lakes, biking and hiking trails, and numerous municipal, state and national parks.
One of the top outdoor destinations is Paynes Prairie Preserve State Park. This more-than-23,000-acre wonder is only 17 miles and 30 minutes east of Oakmont, across Interstate 75. It has sustained and wowed native peoples, settlers and early regional residents for centuries.
Florida's temperate autumn, winter and early spring is a great time to ramble its paths, practice your nature photography skills, or participate in weekly activities at the visitor center.
Read on for more reasons to explore Paynes Prairie during Florida's cool seasons.
Celebrate a historic landscape
Paynes Prairie recently celebrated its 51st anniversary as Florida's first state preserve. The park's 50th anniversary actually occurred in 2020, but COVID-19 pandemic restrictions curtailed the celebratory public gatherings and activities.
Not so in 2021!
As we began to put the pandemic in our rearview mirror, Paynes Prairie celebrated its 51st and 50th anniversary in style over the summer. And, if you're an Oakmont resident who hasn't yet visited, cooler weather is a great time to do so.
Paynes Prairie's vastness encompasses many unique hydrological and geographic environments. The prairie portion often floods during wet seasons and recedes during dry seasons, leaving beautiful, diverse vistas in every direction.
There are forests, meadows, creeks and lakes. Plus more than 30 miles of hiking trails, fishing opportunities, camping facilities and cycling along the paved 16-mile, Gainesville-Hawthorne State Trail that runs through the preserve.
Here's the biggest takeaway for Oakmont residents — you can celebrate this natural treasure any day.
Activities to sample
If you enjoy Florida's outdoor lifestyle, you'll soon discover Paynes Prairie involves much more than a single visit. It's a National Natural Landmark and incorporates numerous native wildlife habitats.
As an example, one of its eight hiking trails — the La Chua Trail — skirts some of Paynes Prairie's iconic wet environments. The trail, which is three miles via round trip from the Prairie's north rim to its 50-foot observation tower, includes elevated boardwalks that carry you past prime wildlife-viewing territory. Bring your phones and real cameras to document wild horses, buffalo, alligators and all manner of fowl, including bald eagles, herons and other water birds.
Ready for your Oakmont lifestyle? Talk to us here.