One of the best parts about living in Gainesville's premier master-planned community is its size. Located on the city's booming west side, Oakmont encompasses 550 acres — more than enough to stretch your legs and backyard views. But, we bet you didn't know Oakmont contains its own neighborhood wilderness.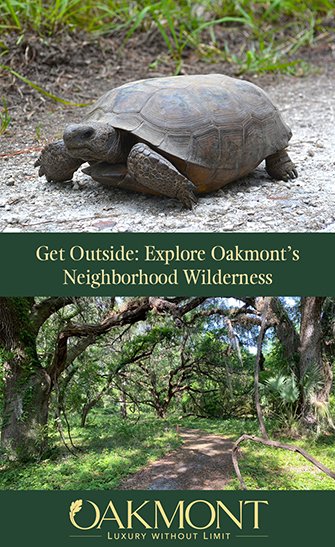 Along with five different lot sizes, the area's top amenities, and loads of floor plans, Oakmont offers residents the Gopher Tortoise Reserve — a walkable conservation area that protects native tortoises and other animal friends.
It's one of many reasons to buy or build your new custom Florida home at Oakmont. We'll detail a few below, then encourage you to get outside and explore Oakmont's neighborhood wilderness.
Great location
We said it above: Oakmont is Gainesville's top residential destination. This historic, always-hopping and evolving north central Florida city is a hub for exploring other regions of the state, and its status as the hometown of the University of Florida and Santa Fe College drives even more of its appeal.
The business, medical and research environments fostered by these institutions draw new residents from all over the world. Oakmont is minutes from UF's renowned health facilities, plus the city's arts and cultural communities.
Other work and play opportunities abound in Gainesville, Alachua County and the surrounding towns and counties, and Oakmont is central to them all. Why live elsewhere?
Great activities
Buy or build a new custom Florida home at Oakmont, and you may have to schedule time to sample the above pursuits!
Aside from the Gopher Tortoise Reserve, Oakmont residents enjoy the expansive Residents Club, which anchors social and meeting spaces, a resort-style swimming pool, fitness center and event lawn. You'll also find basketball and tennis courts, and a busy event calendar just for you.
Oakmont's size accommodates other individual and group activities. Run, cycle or walk its safe, scenic streets. Take in the natural beauty of live oaks, longleaf pines and palm trees.
Which brings us to…
Oakmont's neighborhood wilderness
You won't find this amazing amenity in any other Gainesville community. The Gopher Tortoise Reserve is a 46-acre tract conserved in its natural state. Its two-mile trail, which opened in spring 2021, offers Oakmont residents the ability to enjoy a slice of north central Florida wilderness right in their community.
The Gopher Tortoise Reserve has been protected since Oakmont's beginning. Recent teamwork between Oakmont's developer, ICI Homes, University of Florida wildlife experts, and local and state officials created the two-mile walking trail, opening the Reserve for additional resident enjoyment.
When you explore the trail, you'll see signs explaining the tortoises, their habitat and other animal and vegetative species. The Reserve ensures that Oakmont tortoises, which live in sandy, forested areas of Florida, also have a safe neighborhood. They're listed as threatened at the state level.
Quick reminder: the Reserve trail is walk-only. There's a rack for bicycle storage at the entrance.
Ready for your Oakmont lifestyle? Talk to us here.