Paths are cleared, signage is set, and it's time to welcome Oakmont's newest amenity! The Gopher Tortoise Reserve has been part of the community since Oakmont's inception, but it debuted as an amenity residents can enjoy in April 2021.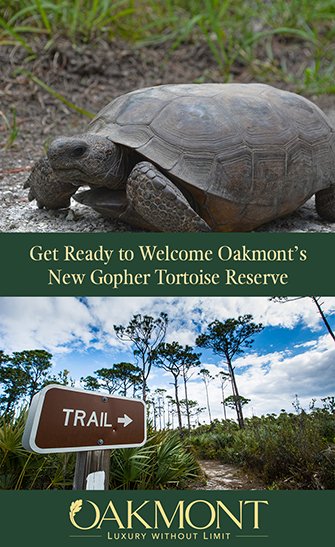 The Reserve still serves the primary purpose of protecting an endangered species — its namesake gopher tortoise. Additionally, the Reserve now offers Oakmont residents an active way to enjoy their community's natural surroundings.
How does this happen? By exploring the new, two-mile walking trial through the Gopher Tortoise Reserve. The trail is marked by signage that describes the tortoises, their habitat and other flora and fauna in the area. In addition to the educational signage, Oakmont residents will note signs at each mile post with suggested exercises, perfect for those who prefer more of a workout to a leisurely stroll.
It's the culmination of a months-long collaboration between ICI Homes (Oakmont's developer), University of Florida wildlife experts, and local and state officials. The 46-acre Gopher Tortoise Reserve is part of Oakmont's 550 acres and it's easy to access.
Here's the scoop all things Gopher Tortoise Reserve.
What you'll enjoy
A wonderful walk through Oakmont's undisturbed, north central Florida landscape.
Located on the southwest side of Gainesville, Oakmont is the area's premier master-planned community. It's only minutes from Gainesville's thriving downtown, the University of Florida and renowned medical facilities, and the abundant natural resources that abound in this part of the state.
The Gopher Tortoise Reserve gives Oakmont residents yet another recreational choice aside from the Residents Club, swimming pool, fitness center, basketball and tennis courts, event lawn and a prodigious schedule of fun community activities.
So, when you're ready to stretch your legs in a peaceful way, head for the Gopher Tortoise Reserve. In addition to tortoises, you'll likely hear and see birds of all sorts, and perhaps other animals.
Please note the Gopher Tortoise Reserve is a walking-only trail. A bicycle rack is provided to stash your bike while you enjoy the new trail on foot.
The important homework behind it
Planning for the Gopher Tortoise reserve took approximately nine months prior to its February announcement and groundbreaking, then, another three months for construction and installation.
UF professor Mark Hosteler, whose specialty is wildlife ecology and conservation, lent his expertise to the signage for the new Reserve. The Florida Fish and Wildlife Commission and the Alachua County Environmental Protection Department also contributed to the project.
The Gopher Tortoise Reserve helps Oakmont residents learn about their land-dwelling reptilian neighbors. Gopher tortoises thrive in north central Florida's gently-rolling terrain and sandy soil, and need a little extra protection these days. The species is state-designated as threatened in Florida. At the federal level, it's listed as threatened under the Endangered Species Act in its native, southeastern region.
If you're a new Oakmont resident or are considering becoming one, you may not know that the 46-acre Gopher Tortoise Reserve has been preserved from Oakmont's beginning in 2014. Now, it's been thoughtfully opened to all Oakmont residents in a way that benefits both people and tortoises!
Ready for your Oakmont lifestyle? Talk to us here.