Oakmont residents live in a community surrounded by natural beauty, both in their own backyards and in green spaces, woodlands and conservation areas sprinkled throughout. Those beautiful natural areas also attract many species of popular Florida animals who serve as Oakmont's wildlife neighbors.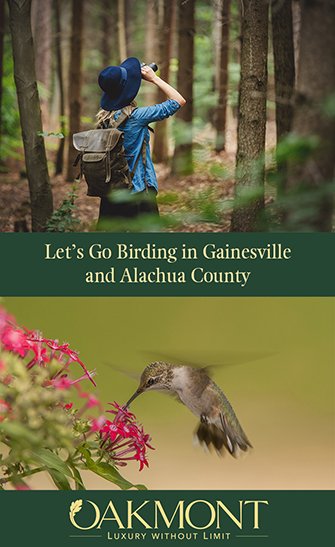 This includes birds, and the opportunity for a fun, new outdoor activity — birding.
Sometimes known as birdwatching, birding involves spotting, tracking, identifying and learning about many different varieties of birds. Oakmont residents intrigued by birding will find it very easy to enjoy thanks to their neighborhood.
Its hometown of Gainesville in Alachua County is in north central Florida, in the midst of amazing ecological, geological and natural riches. More on that below, but it's difficult to go anywhere around Oakmont without spotting songbirds, waterbirds, raptors and even humming birds.
Here are some tips for beginning your birding experience.
Birding in your Oakmont backyard
Don't think birding requires any complicated routine and equipment. All you truly need is a comfortable place to sit or stroll, and time to pay attention to the birds near your Oakmont home.
If your backyard overlooks wooded areas, you may spot familiar black crows, blue jays, cardinals, robins and petite finches of all colors. They might hang out in, and flit in and out of, flowering landscape trees like crape myrtles, or even your hibiscus shrubs.
Install a hummingbird feeder near a back porch and watch these tiny, amazing creatures zoom in and zoom out. Watch for eagles and hawks perching in tree tops or soaring above your property.
If your backyard overlooks one of Oakmont's ponds or lakes, add giant blue herons, white egrets, ducks, cormorants and ospreys to your birding roster.
Look for lists of Florida bird (and butterfly!) species that help you identify them. Eventually, a pair of binoculars will come in handy, which leads us to…
The Great Florida Birding and Wildlife Trail
Want to see more birds in their natural habitat? Follow the Great Florida Birding and Wildlife Trail, a list of 510 places across the state that are prime bird and wildlife viewing territory.
Many locations on the Great Florida Birding and Wildlife Trail are municipal and state parks, and recreation areas. So it's easy to find bird habitats where you might be checking off one species after another on your list!
There are eight sites near Oakmont and all incorporate freshwater springs, lakes or rivers that attract birds. Paynes Prairie Preserve State Park is on that list. It's also one of the three Gainesville-area birding sites recommended by the Alachua Audubon Society. The others are the La Chua Trail at Paynes Prairie and Sweetwater Wetlands Park
Needless to say, birding is a fun family activity. Connect with other enthusiasts virtually and in person; birding is another healthful excuse to get outdoors and safely social distance as we continue to navigate a global health crisis.
Ready for your new Oakmont home? Talk to us here.