Looking for a new custom home in Gainesville or know someone who is?
One of Oakmont's preferred builders, Tommy Williams Homes, is debuting an ultra-versatile floor plan that fits many households in any stage of life. It's called the Langston, and its one-level, three-bedroom, two-bathroom layout features thoughtful design touches that make it, oh, so livable.
The Langston is a quality product from a quality producer. Tommy Williams Homes not only is one of Oakmont's six preferred builders, the company also is annually recognized as one of the best in north central Florida. It's known as "Gainesville's Green Builder" for its concentrated focus on sustainability, construction techniques and energy efficiency.
So, let's have a peek at this new addition to Tommy Williams Homes' design portfolio. Here's why we're spotlighting the Langston floor plan at Oakmont.
It has everything
The Langston's 1,764 square feet is as hospitable to first-time home buyers as it is to empty-nester retirees.
All three bedrooms, including a private owner's suite, are tucked on one side for peace and quiet.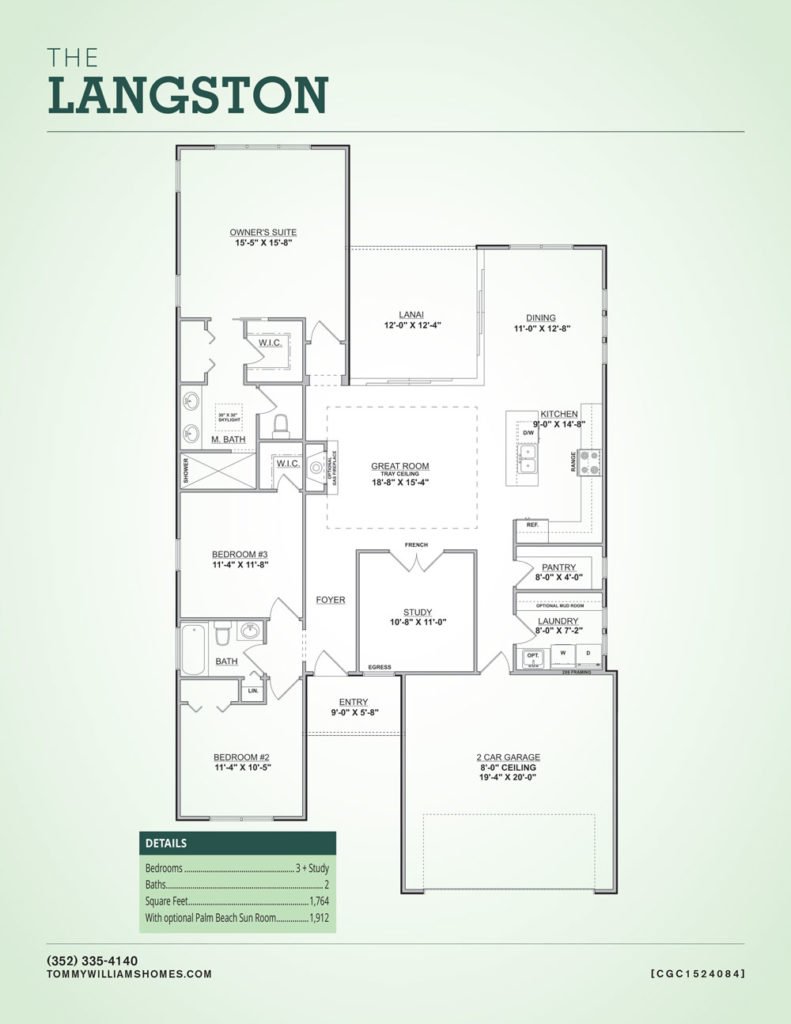 The skylight in the owner's suite bathroom is a standard feature.
On the opposite side of the home, the central great-room, kitchen and dining spaces combine for spacious social areas, providing plenty of elbow room for mingling, yet enough coziness for family dinners.
A generous lanai contributes covered outdoor living space just beyond the great room. Choose the sunroom option and the Langston floor plan bumps up to 1,912 square feet.
Either way, generous, corner sliding glass doors form a clear boundary between the great room and dining area, and lead to the lanai. The 9-foot glass doors eliminate the visual barrier of a typical wall and providing interior living spaces with views of beautiful Oakmont surroundings.
The Langston also includes a two-vehicle garage. Enter via that entrance and pass the laundry room, then the walk-in pantry, both of which are easily accessible from the kitchen, but discreet enough to conceal messes. Windows in both of these practical spaces negate the cave effect.
One of the Langston's handiest spots is the study, or home office. Enter through the front door and find the study opposite the entry foyer. It's a workhouse that opens to the kitchen, and also can function as a children's activity room, craft room, home gym or additional living space.
More about the Langston online
Ready for info? Head for the Homes tab on our website and look for Tommy Williams Homes. It contains video tours of inventory homes, valuable testimonials, and links to contact us or visit Tommy Williams Homes' website.
Tommy Williams Homes' website is another great resource. As of this writing, the company offers 24 floor plans in Oakmont, ranging from 1,508 to 3,359 square feet. Click the Langston link for a downloadable floor plan, a video tour of an existing Langston, and to see elevation choices (a home's exterior design options).
Ready for your Oakmont lifestyle? Talk to us here.