*Read Tommy Williams Homes response to the COVID-19 pandemic and how we are keeping our customers and employees safe during this time.*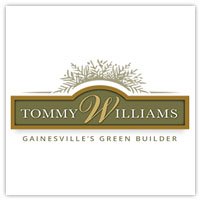 Nationally recognized and locally known as Gainesville's Green Builder, Tommy Williams Homes now includes Solar STANDARD on every home we build. Own one of the most energy efficient homes in Florida. You'll pay NO ELECTRIC BILL for your first year, and live in the style, comfort and custom elegance you deserve.
Visit the Tommy Williams Homes website.
Tommy Williams Homes Video Gallery
Testimonials
"Tommy Williams Homes are a quality product." – two-time Tommy Williams Homeowner and Oakmont Resident, Darin.
"I recommended [Ashley Morrel from Tommy Williams Homes] to several of my friends just because of the personality that she had and the way that she did the job. I felt it was just that remarkable." – four-year Oakmont resident, Joel.
View more testimonials from Tommy Williams Homes homeowners.