If you're house hunting in Gainesville, Oakmont is one-stop shopping for whatever you seek. The choices never end here thanks to the community's size, unique siting and stunning environment.
Know what else makes Oakmont unique?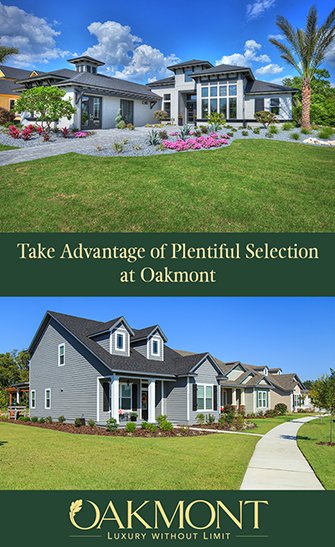 The choice of several of the top builders in the Gainesville area. You won't be limited to a handful of floor plans from one or two sources.
Your new custom Florida home can be anything you and your household want it to be — a winning formula in today's very competitive real estate market.
House hunting in Gainesville? Why you want to live in Oakmont
Before we introduce you to Oakmont's six preferred builders, here's why it's the standard for master-planned communities in Gainesville.
Located on the city's southwest flank, Oakmont is convenient to everywhere in north central Florida. Residents are 10 minutes from the University of Florida campus and its academic, sports, cultural and healthcare resources (including renowned UF Health system).
Gainesville's exuberant downtown area, with its shops, art galleries, craft breweries, dining scene and businesses, also is a 10-15-minute commute. This part of Florida is rife with outdoor recreational opportunities, beautiful natural resources, and — again — an easy ride to nearby cities such as Ocala, Orlando and Tampa-St. Petersburg.
Oakmont's siting is important for other reasons. It occupies 550 acres, many of which are in conservation that will not be built on, including one area that protects endangered gopher tortoises. Its namesake live oaks are omnipresent along with gentle hills, ponds and an immense Residents Club that anchors standout amenities.
Oakmont's size also means a greater selection of lot and home sizes.
A quick how-do-you-do
Meet Oakmont's builders! Each organization puts a unique spin on its floor plans and the building process, but rest assured you're in for a top-notch experience no matter which builder you choose. Many of the six boast four decades of experience. Start your house hunting in Gainesville journey here:
AR Homes by Arthur Rutenberg: overseen by Lisa Rutenberg, who represents the third generation of one of Florida's well-known family builders. Expect larger family homes, estate homes and custom creations.
Barry Bullard Homes: expect more than 40 years behind your custom build. A recent move-in-ready product at Oakmont showcased more than 4,000 square feet of living space on two levels.
ICI Homes: Florida's custom home builder for more than four decades. Expect custom builds, estate homes and a new series of eight single family floor plans tailored for versatile 50-foot lots.
Jeffrey M. Wilde, Builder: founder Jeff is a second-generation builder with strong Gainesville roots. Custom and estate homes are a specialty.
Tommy Waters Custom Homes: founder and namesake Tommy Williams already has the next generation busy in the family firm, son Derek and daughter Carly. Expect a personal, hands-on approach.
Tommy Williams Homes: another well-known Gainesville-area builder that also champions energy efficiency, particularly solar power options.
Stay tuned for posts spotlighting each preferred builder.
Ready for your Oakmont lifestyle? Talk to us here.