If you're an outdoors enthusiast considering a new custom Florida home at Oakmont, know that there's no shortage of active pursuits in this master-planned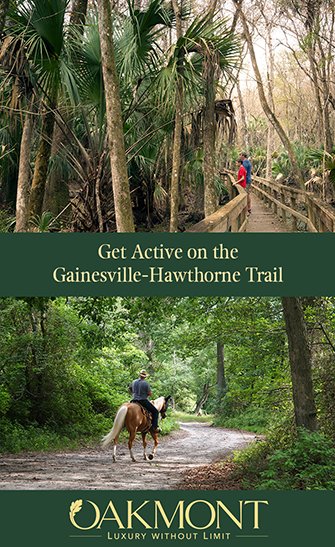 community.
Gainesville's top residential development offers the area's best amenities, including a Residents Club, resort-style swimming pool, tennis courts, event lawn and fitness center. Staying occupied and connected is as easy as Frisbee tossing with Fido on the event lawn. Or, cycling, running, walking or skateboarding through Oakmont's streets.
The community's more than 550 acres give you plenty of room to roam amid preservation land, giant live oaks and gently rolling hills. But, when you're ready for a change of scenery and challenge, pack up the gear and try the nearby Gainesville-Hawthorne Trail.
This 16-mile, all-purpose recreational path is only minutes from Oakmont, and provides a great setting for year-round outdoor fun.
Here's how Oakmont residents can get active on the Gainesville-Hawthorne Trail.
Where to find it
The Gainesville-Hawthorne Trail begins at Boulware Springs Park in Gainesville, on the city's east side. It's approximately 12.5 to 14.5 miles from Oakmont, depending on your route across town.
The Trail is a state park without an entrance fee — woo-hoo! The city's Boulware Springs Park is its main trailhead and offers parking. Three other trailheads also provide access and parking; check the Trail's website for specifics on those.
How to use it
The Gainesville-Hawthorne Trail runs east from Gainesville to the town of Hawthorne. Its 10-foot-wide, paved surface is paralleled by an unpaved equestrian trail. It follows an old railroad bed.
You can bring Fido, but he or she always must be securely leashed. Restrooms are available at certain points (check current availability before you arrive at the Trail) and you can fish a few creeks along the way if you have the appropriate fishing license from the Florida Wildlife Commission.
The Gainesville-Hawthorne Trail passes through Paynes Prairie Preserve State Park (and its well-known La Chua Trail), plus conservation areas, marshes, swamps and wildlife management areas. Stop to admire the many views from overlooks, which showcase natural Florida at its best.
A trip down the Trail can be easygoing or intense. No matter how you choose to use it, you'll enjoy the opportunity to mix recreation with exercise.
The Trail is open from 8 a.m. until sundown each day.
Historical bonus
Curious about where you're going? If you're a first-time user, the Gainesville-Hawthorne Trail ends in the small town of Hawthorne.
It began as a railroad crossroads in the late 1800s and today is a charming burg with a museum (the Hawthorne Historical Museum and Cultural Center), and places to rest and refuel.
Once you're ready, U-turn for a 16-mile trip back to Gainesville.
Or, cheat and have a friend or family member pick you up!
Ready for your Oakmont lifestyle? Talk to us here.