Located on the city's southwest side, Oakmont is convenient to a vibrant historic downtown, arts community, the University of Florida, UF Health, and amazing natural resources and recreational options.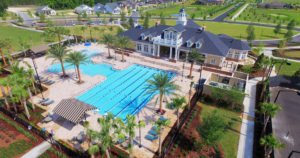 But, Oakmont's secret sauce is more than location and convenience. It also boasts Gainesville's top resident amenities.
The full scoop is below.
Great homes come first
Because you can't live at the swimming pool (your kids may dispute this), four of Gainesville's best builders offer floor plans that contain today's cutting-edge technology and construction techniques. Single-family homes ranging from 1,500 square feet to estate homes can be yours.
Build from scratch, or snag one of Oakmont's inventory homes that's in-progress or completed.
And yes, Oakmont has a doozy of a pool, but we'll get there.
Then, great amenities
This is the deal-clincher. Because Oakmont boasts what no other Gainesville community has — amenities that make you wish you could live at the pool. And that's not a sales pitch; it's true.
The proof begins at Oakmont's main entrance, where the classic Residents Club serves as the community's centerpiece. Social and gathering areas are spacious and gracious. The Club also contains a fitness center and catering-service facilities for special events
Outside, you'll find that awesome pool with lap lanes and wade-right-in, zero-entry. The latter includes a shallow splash zone perfect for the youngest pool-goers, plus the splash jets mimic the soothing sounds of a fountain. Oakmont's pool is large enough to be two-in-one — the sporting area with lap lanes, and the fun, laid-back resort area with its zero-entry.
A large sun deck surrounds the pool, populated with comfy lounge chairs and canopied shady areas. Nearby are tennis courts, a basketball court, a sprawling event lawn, playground and even an amphitheater.
Amenities also exist all around Oakmont. Miles of walking paths wind through the community. The Gopher Tortoise Reserve, a preserved, 46-acre conservation area, contains a two-mile nature trail that immerses residents amid the flora and forest of north central Florida.
Signage in the Tortoise Reserve tells you more about your surroundings, including its namesake, the native, protected Gopher Tortoise species. The nature trail is pedestrian-only, but you can ride your bike over and store it in the bike rack outside the trailhead.
Then, community events
Oakmont's Residents Club often serves as the hub of the community's monthly, seasonal and annual activities. Just as there's zero-entry for Oakmont's swimming pool, there's zero chance of boredom when you live here.
Movie nights, food-truck nights, fall festivals, Easter Egg hunts and casino nights are just a few of the options — all curated by an on-site lifestyle coordinator.
Ready for your new Oakmont lifestyle? Talk to us here.