One of the biggest perks of moving to Oakmont — Gainesville's premier master-planned community — is the proximity to its hometown dining (yes, including our famous local craft breweries), cultural and art scenes.
Also home to the University of Florida and its major research, medical and business initiatives, Gainesville's lively, historical downtown and surroundings teem with things to do and enjoy.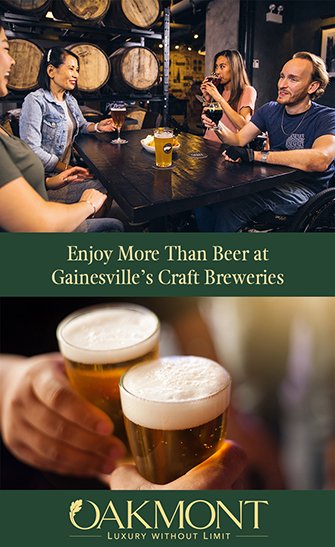 It doesn't hurt that up-and-coming talent is ensconced right next door at UF, and at nearby Santa Fe College!
Since college towns naturally are happening places, Gainesville's craft breweries are right on trend in this popular dining category. Local breweries already capture annual honors in state and regional competitions, and their innovation and creativity often extends to their kitchens, where original food accompanies original brews.
That said, Oakmont residents who savor craft beer and spirits will find much to explore and sample only minutes from their doorsteps. Often, they'll find more than food and drink.
Many Gainesville breweries offer on-site entertainment, making their beer gardens and tasting rooms one-stop-shops for an afternoon or evening of fun.
Here's how to enjoy more than beer at Gainesville's craft breweries.
Where you're going
As of this writing, Gainesville's craft-brewery scene includes five breweries in Gainesville and one in nearby High Springs.
High Springs Brewery Company is located in the historic hamlet just northwest of Gainesville. Like Oakmont, High Springs is located on Gainesville's west side. So Oakmont residents simply have to head north for an easy 22 miles for this brewery.
The others are Gainesville-based — Swamp Head Brewery, First Magnitude Brewing Company, Cypress & Grove Brewing Company, Big Top Brewing Company and Blackadder Brewing Company.
These craft breweries' locations and names are as unique as their products. Cypress & Grove's building was once Gainesville's ice factory. Swamp Head's giant yellow tanks are a community landmark.
Chart them all and visit one or several at a time. Just remember safety first and designate a driver!
What you can do
Sip and savor, via brewers' and bartenders' recommended food and beverage pairings, or by mixing and matching your own. Many breweries also offer craft sodas for the non-imbibers, plus homemade ciders and hard seltzers.
Gainesville breweries regularly pair with another on-trend aspect of the local dining scene: food trucks.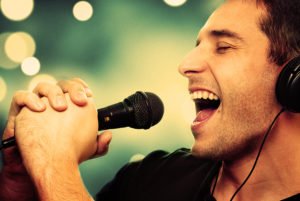 These innovative cooks and chefs set up shop on certain days and turn out brewery patrons' favorite snacks and meals.
Hungry and thirsty for more? Pair your visits with live music, comedy and trivia, depending on breweries' entertainment options. You'll meet talented locals from Gainesville's famous musical and live-performance scenes (it's the hometown of late Rock & Roll Hall of Famer Tom Petty).
Or, be brave and contribute to an Open Mic Night at Big Top. Round up Oakmont neighbors and friends for Trivia Night at Blackadder. Sample a different musical genre and different food-truck cuisine on selected nights at High Springs.
Your experiences with our local craft breweries are only limited by your taste buds and calendar!
Ready for your Oakmont lifestyle? Talk to us here.