If you're moving to north central Florida and the Gainesville metro area, you'll headed somewhere a lot of people are these days.
The historic small city, which also is the University of Florida's hometown, is bustling thanks to UF's own expansion, new businesses and industries, research centers and nationally renowned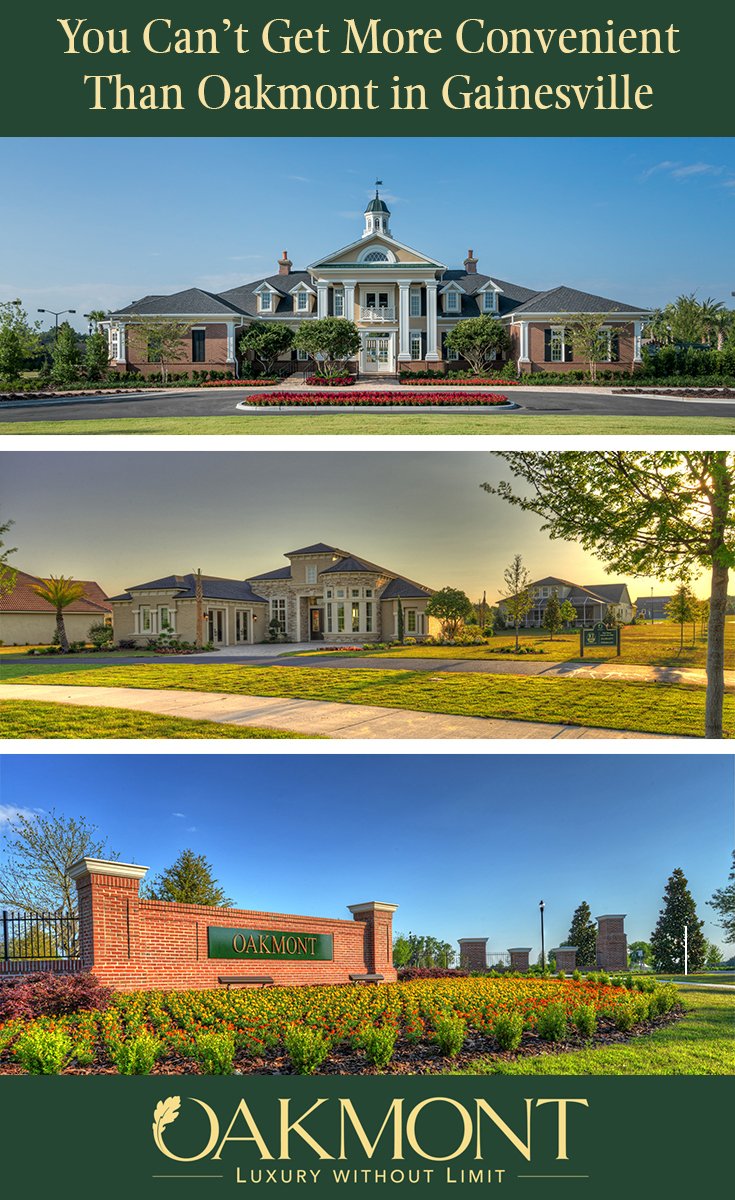 hospitals and healthcare. A major interstate zooming right past it — I-75 — doesn't hurt either!
North central Florida also is a beautiful place with its live-oak forests, freshwater springs and lakes, gentle hills and proximity to beaches on both Florida coasts.
So if you're headed this way, be sure to visit our master-planned community of Oakmont. An array of homesites, floorplans and top-notch amenities make Oakmont more than just a place to live.
Read on to find out why you can't get more convenient than Oakmont, in Gainesville.
Oakmont's location
It's southwest of Gainesville and just west of I-75, away from the immediate hubbub of the city's historic downtown, shopping corridors and the UF campus. But not too far away.
Oakmont is near the intersection of Parker Road (NW 122nd Street ) and SW 24th Avenue. If you're familiar with the Gainesville area, it's between State Roads 26 (Newberry Road) and 24 (Archer Road). Both roads are Gainesville exits off I-75, which makes Oakmont easy to reach from any direction.
What's nearby?
Anything you need. Shopping, schools (both public and private) and houses of worship are minutes from your front door.
The University of Florida and its major hospitals are only 10 minutes away. Same for downtown Gainesville.
Tioga Town Center (off SR 26, or Newberry Road), the popular mixed-use development, is six minutes or 2.7 miles from Oakmont. Head north up Parker Road, to its intersection with Newberry Road. Turn left. There you are, enjoying shopping, dining, plus the Center's Movies on the Square and Summer Concert Series.
Nature is all around you, too. Kanapaha Botanical Gardens and Split Rock Conservation Area are only minutes east of Oakmont. Watermelon Pond Wildlife and Environmental Area is only 13 minutes or 6.7 miles west, in Newberry.
We keep saying minutes, but it's true. You're not stranded in some far-out new development where everyday conveniences are still quite a hike — and months — away.
Why it's nice to stay home
Although Oakmont puts you anywhere you need or want to be in efficient fashion, you don't have to leave the community to find a social life, entertainment or recreation.
One of the unique things about Oakmont is that it's not primarily a bedroom community, where homes look very similar, and amenities are sparse except for a gated entrance. You know what we mean. You've probably checked out many of them.
But you don't sacrifice convenience and affordability for ambiance and lifestyle at Oakmont. It's designed for longevity and enjoyment, not just somewhere to park the car, sleep and cook meals.
At Oakmont, build your just-right-sized family home or a million-dollar dream home. Everyone can enjoy the 6,000-square-foot Residents Club that anchors other amenities. The Club offers meeting and social spaces and a fitness center, while outside, you'll find resort-style swimming pools, four tennis courts, a basketball court and a large event lawn for community gatherings.
Ready for your Oakmont lifestyle? Talk to us here.