If you're relocating to this part of the Sunshine State, you won't find a better place to live than the city of Gainesville and our master-planned community of Oakmont.
Both are unique for numerous reasons, and both compliment each other in many ways. The two are marquee destinations for new home buyers in north central Florida, where natural beauty, career opportunities and university-level learning all happily collide.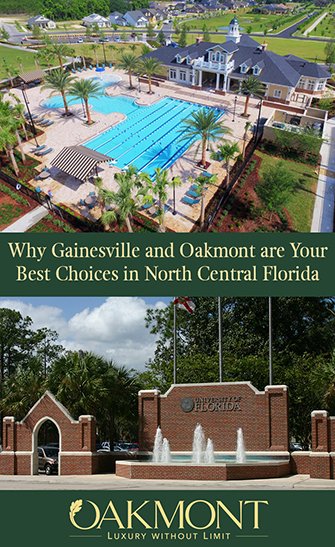 Gainesville features small-town charm amid today's cutting-edge developments in businesses and education. History is alive and well here too. Located on its west side, Oakmont is THE master-planned community in Gainesville. It's a true neighborhood with small-town heart, and loads you up with resident amenities like nowhere else inside or outside the city limits!
Here's why Gainesville and Oakmont are your best choices in north central Florida.
A great location
Location matters, and so does convenience. Gainesville is a bustling small city with historic roots. Founded in 1854, it's been home to the University of Florida since 1906, and to Santa Fe College since 1965.
Although it's growing like a spring weed, Gainesville is easy to traverse — no huge metropolitan-area traffic jams here, thankfully. Its sits between two main transportation arteries — Interstate 75 to its west, and U.S. Highway 441 to its east — and is located less than two hours from Orlando and the Florida Turnpike.
This makes it easy for Oakmont residents to get anywhere in the state, including Atlantic or Gulf Coast beaches. Oakmont is only a few minutes and miles from anywhere in the city.
Another perk? Gainesville residents who live at Oakmont also live in one of the most beautiful parts of Florida. They're surrounded by rolling hills, live oak-anchored forests, wetlands, freshwater springs and many outdoor recreation spots.
Gainesville is a happening place
As the hometown of the University of Florida and Santa Fe College, Gainesville offers residents, students and locals alike far more cultural, educational and career opportunities than most metropolitan areas its size.
This juxtaposition of learning and diversity means residents enjoy a unique vibe here. The arts communities are robust, as is the preponderance of museums, recreational venues and services.
People from all over the world attend UF and Santa Fe College as students. Or, to work there as academics, researchers and more. Gainesville's business and medical industries are renowned and both sectors — among others here — spawn jobs and multiple economic benefits.
There's no place like Oakmont in Gainesville
Oakmont is as unique as Gainesville.
Its 550 acres give new residents plenty of room to select the perfect lot, and the area's top builders are ready to help them select the perfect floor plan.
Did we mention the Resident's Club? Resort-style swimming pool? Basketball and tennis courts? A calendar of activities curated just for you?
Ready for your Oakmont lifestyle? Talk to us here.