Lounging by or splashing in a cool body of water is the perfect way to spend a sultry summer in Florida. Happily, swimming pools are ubiquitous here, along with thousands of miles of ocean coastlines, lakes, rivers and freshwater springs. Not to mention, Florida's famous manmade water parks.
If you're an Oakmont resident, you probably know the large swimming pool at the Residents Club is a popular community destination.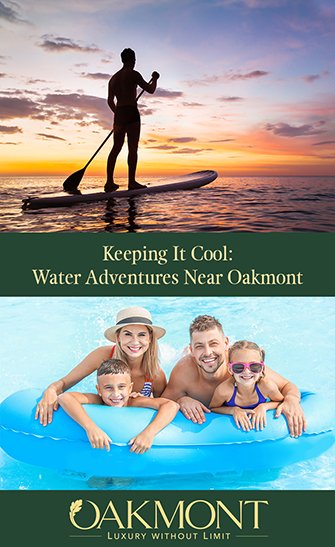 Lucky you may even enjoy your own backyard pool. And perhaps friends' and neighbors' pools.
High-five to those of you with SEVERAL Oakmont pools to frequent!
But it's also fun to enjoy other watery adventures. Here's how to keep cool in Oakmont's hometown of Gainesville, and the greater north central Florida area.
Kulaqua River Ranch Water Park
This facility, located 30 minutes and 24 miles northwest of Oakmont, near the town of High Springs, is a private facility for conferences, meetings, camps and other group activities. Kulaqua River Ranch features many recreational options, but their water park is noteworthy because they open it to the public on selected monthly "Community Days."
Kulaqua River Ranch's water park features a giant wave pool, slide and a 600-foot river for floating along peacefully under the Florida sun. Since this is a private facility, visitors are asked to observe a few house rules. These are clearly noted on their website here.
Florida's freshwater springs
Visit nature's water parks rather than manmade ones. Oakmont residents can enjoy freshwater springs — often as part of numerous state and municipal parks — in every direction.
The north central Florida region that includes Gainesville boasts more than 1,000 freshwater springs. These spring are fed by refreshing 72-degree water that flows from underground aquifers every day of the year. Their waters often are a clear blue-green color and provide a gorgeous, cool playground for canoeing, kayaking, paddleboarding, tubing, swimming and even snorkeling and scuba diving.
The town of High Springs — catch the name? — is known as the gateway to Florida's freshwater springs. The nearby Santa Fe River features several well-known springs, and local and regional outfitters are available for paddling lessons and guided trips.
World-famous water parks
Have time for a road trip? Visit Florida's big-attraction water parks in Orlando.
These are the ultimate in splashing, swimming and sliding a day or a weekend away. People come from all over the world to enjoy these water parks, but Oakmont residents can make the couple-hours' drive south to Orlando on demand, year-round.
The four big, branded water parks are Aquatica Orlando at SeaWorld Orlando, Volcano Bay at Universal Orlando, and Walt Disney World's two water parks — Blizzard Beach and Typhoon Lagoon. All offer specialty experiences, dining options and fun themes. For example, you can't miss the big volcano sprouting in the midst of Volcano Bay.
NOTE: as of this writing, Typhoon Lagoon remained closed due to pandemic protocols. Check its status before you go.
Ready for your Oakmont lifestyle? Talk to us here.