Most Oakmont residents likely arrive at their new home with favorite decorative objects.
Whether inherited or purchased, large or small, we all have paintings, posters, photographs, knick-knacks and the like that we enjoy.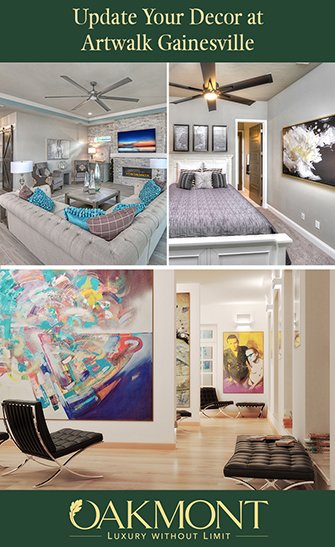 But what if you need more? Have your tastes changed? Maybe you've moved from another part of North America and the art from your former home doesn't jive with a sunnier Florida climate.
If you're like some of us, you might not have paid attention to more than framed diplomas and family photos. But with a new Oakmont home, you've decided to step up your decorative game.
We've got the solution. Artwalk Gainesville is a monthly event where local galleries, venues, exhibits and studios stay open after traditional business hours and welcome visitors from 7-10 p.m. It's held on the final Friday of each month.
Read on for a great, walkable way to not only update your decor, but also to learn your new town.
What Artwalk Gainesville is
Definitely not a stuffy, dress-up thing. Although feel free if you're feeling it!
The action takes place in downtown Gainesville where many galleries and studios are tucked among main thoroughfares and busy side streets. You can download a handy map of each month's participating venues from the event's website.
Given Gainesville's long history as hometown to the University of Florida and nearby Santa Fe College, plus its plethora of museums and performing venues, it boasts a thriving arts community that attracts talent from many sources.
You'll find exhibitions to enjoy, and original pieces of art to purchase at many of Artwalk's participating venues. You also have the opportunity to attend special performances such as concerts, or tastings at restaurants and breweries.
How to enjoy Artwalk Gainesville
One of the event's best features is the actual walking!
You don't have pound pavement to enjoy it — cruise from venue to venue by bicycle, skateboard or motor vehicle if you like — but if you're a newer Oakmont resident who hasn't explored your new town, walking from location to location during Artwalk is a great way to familiarize yourself with downtown Gainesville.
A recent Artwalk featured a whopping 15 venues.
Don't be surprised to find yourself returning to finish your monthly Artwalk trek on another day, when you have time to visit all the spots you couldn't get to in only three hours.
Wear comfy shoes, heed pedestrian crossings and don't hesitate to ask for directions or recommendations for other art installations. Main Street is the central north-south thoroughfare on your Artwalk Gainesville map, and University Avenue is the central east-west thoroughfare.
Once you have your bearings, you'll also discover downtown Gainesville teems with culinary art. There's no shortage of fun places to eat and sip along your route. Grab a bite, toast your adventure, and head back to Oakmont with new artsy treasure or two.
Ready for your Oakmont lifestyle? Talk to us here.