New to Oakmont and Gainesville? If so, this part of north central Florida is famous for its University of Florida Gators, and Oakmont residents are only minutes from all the hometown tailgating, cheering and celebrating that happens during UF football season.
As the flagship institution in the state's university system,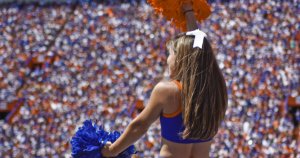 UF also is a major player in business, research and healthcare industries, among other disciplines, and it's one of Gainesville's largest employers. In fact, some of your Oakmont neighbors might work and/or study at UF.
But today we're here for the football! Each new academic and sports year brings fresh excitement and enthusiasm as new undergraduates begin their higher-education journey and the Gators kick off in early autumn.
Here's how to enjoy college football season in Gainesville.
Why it's big deal
The University of Florida football program, which first kicked off in 1906, has a long, successful history. It has produced three Heisman Trophy winners (quarterbacks Steve Spurrier, Danny Wuerffel and Tim Tebow), three national championships (1996, 2006 and 2008) and has been member of the Southeastern Conference — one of the nation's top Power 5 athletic conferences — since 1932. In fact, Florida has won eight SEC football championships (1991, 1993, 1994, 1995, 1996, 2000, 2006 and 2008).
This history of winning, on-field excellence and more than 100 seasons of competition has established an enthusiastic and supportive fan base all over the world. But perhaps nowhere embraces UF football like its Gainesville hometown.
The entire area practically drips in UF's distinctive orange and blue colors, from signs, bumper stickers and decorative house and yard flags, to folks who'll greet you with a long-armed "Gator chomp" handclap.
Enjoy it at home
Ready to enjoy a UF football season? Oakmont is a perfect place to host or attend tailgate or game-watching parties.
Host one yourself, or check with Oakmont's onsite lifestyle director to see if there's a neighborhood game-day event scheduled at the Residents Club.
Here's a fun suggestions even if you aren't a UF football fan. You might support another collegiate football team — an SEC rival or beyond — as might some of your Oakmont neighbors. If everyone's "game," organize an effort to fly everyone's favorite school flags, wear their colors, and have fun with friendly rivalries or driveway parties.
Enjoy UF Football at the Swamp
UF's Ben Hill Griffin Stadium is right downtown, and Oakmont residents are minutes away from enjoying a Gator game in person at "the Swamp." You'll also have easy access to restaurants, bars and parking lots for pre-game tailgates. Check UF's athletics department links for information about ticket purchases and special game-day events.
And, if you want to continue cheering the Gators beyond football season, you'll have plenty of opportunities to support the UF women's and men's teams in other sports like basketball, baseball, softball and gymnastics later in the school year.
Ready for your new Oakmont lifestyle? Talk to us here.