One of the top perks of living in the Gainesville area is its wealth of recreational options.
Thanks to Florida's mild year-round climate and natural resources, Oakmont residents can choose team sports and individual sports such as running, cycling and hiking, to name a few.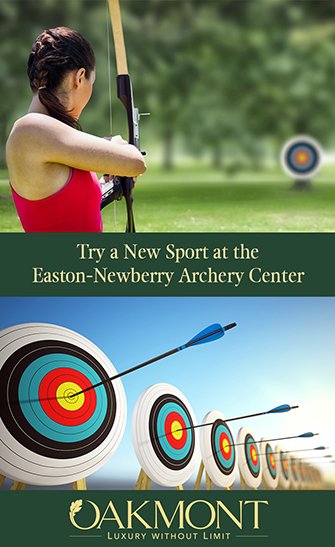 Then there's water sports. North central Florida's springs and lakes are an outdoor playground for fishing, boating and swimming, and don't forget birdwatching! It's definitely a real thing.
Oakmont's own amenities are best-in-class among Gainesville's master-planned communities — a gorgeous Residents Club, resort-style swimming pool, indoor and outdoor gathering spaces, tennis and basketball courts, an event lawn and amphitheater.
But, new recreational experiences can be fun too. Here's one suggestion: archery.
As in using bows to shoot arrows at targets. Archery is versatile as an individual or team sport and is practiced at very high levels, such as Olympic competition. And, the place to enjoy archery in Gainesville is right down the street from Oakmont.
Here's an introduction to the Easton-Newberry Archery Center.
Where to find it
The Easton-Newberry Archery Center is located at 24880 Northwest 16th Avenue in Newberry. Both Oakmont and the town of Newberry are on Gainesville's bustling west side.
To reach the archery center, turn left out of Oakmont's main entrance onto Southwest 24th Avenue. Turn right at Parker Road. Stay on Parker until the intersection with West Newberry Road, or Highway 26. Turn left and follow it past Dudley Farm Historic State Park.
Near the town of Newberry, veer right on Newberry Lane, then right onto U.S. Highway 41, just beyond. The archery center will be a few miles away on Highway 41, on your right.
What you can do there
Archery can provide an endless source of fun and challenge, and is performed at indoor and outdoor ranges. The Easton-Newberry Archery Center offers both.
It's part of a 100-acre recreational facility — the Easton-Newberry Sports Complex — under joint management by the Easton Foundations and the city of Newberry. The building where the archery center is located also is home to the city's recreation department.
The indoor range contains 18 shooting lanes at a distance of 18 meters. An expansive outdoor range contains adjustable, longer shooting lanes up to 90 meters. There's also a 60-acre wooded course for archers who want to exercise while they shoot field and/or 3D targets.
Want to learn archery? Instructors and classes are available. The archery center also offers league competition. corporate and group outings, and hosts regional, state and national archery events.
If you're curious, the Easton Foundations is a West Coast-based organization founded in 1984 by James L. Easton to support and encourage the sport of archery. The Newberry facility is one of three operated by the Easton Foundations. The other two are in Salt Lake City, Utah and Chula Vista, California.
Ready for your Oakmont lifestyle? Talk to us here.