There are innumerable reasons Gainesville makes a great hometown for Oakmont residents, and Sippin' Seven Alachua County Ale Trail is one of them.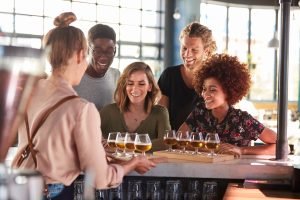 The north central Florida city couldn't be more conveniently located. The region's natural beauty and outdoor recreation possibilities are endless. Plus, the University of Florida, Santa Fe College, and world-class business, health, and research facilities all combine to offer premier care and career and educational opportunities.
But Gainesville also is renowned for its fun-loving side. The city has a legacy of producing musical talent in all genres, and its dining scene and craft breweries regularly make "Best of…" lists.
Now, Oakmont residents have another way to enjoy going out and about in their hometown — the Sippin' Seven Alachua County Ale Trail.
Seven Gainesville craft breweries have teamed with Visit Gainesville to offer an easy way to enjoy each establishment. Here's more on how Oakmont residents can follow the Sippin' Seven Alachua County Ale Trail.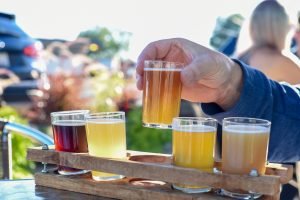 Meet the Sippin' Seven
In alphabetical order, the Ale Trail participants are Big Top Brewing Company, Blackadder Brewing Company, Cypress & Grove Brewing Company, Daft Cow Brewery, First Magnitude Brewing Company, High Springs Brewing Company, and Swamp Head Brewery.
Five of the seven breweries are located in Gainesville. The other two are in historic small towns nearby — Daft Cow Brewery in Alachua, and High Springs Brewing Company in High Springs.
Many have won multiple Best Florida Beer Professional Championship awards. Most also offer homemade sodas, seltzers, tasting menus, and/or partnerships with popular food trucks. Live music, comedy, and trivia contests can be found too.
North Central Florida's plethora of freshwater springs is a theme among many breweries on the Sippin' Seven Alachua County Ale Trail. The state has more first-magnitude springs than anywhere else in the United States, and these bodies of water (crystal-clear and a constant 72 degrees) also are prime recreational spots.
First Magnitude Brewing Company takes its name from many of these springs' designations. "First Magnitude" means they're the most prolific freshwater spring, expelling 100 cubic feet of water every second. The town of High Springs is a popular oasis and staging point for visitors to adjacent springs, and several Sippin' Seven breweries honor these natural wonders by naming brews after them.
How to follow the Ale Trail
Aside from tasty brew and culinary exploration, Sippin' Seven Alachua County Ale Trail participants can accumulate points and redeem them for rewards like "Billy the Bison and the Brew Birds" branded merchandise.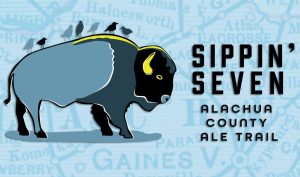 Do this by downloading a mobile pass on your phone. It arrives via text and email. Download it to your phone desktop. The pass comes with special discounts and deals. Use it to check in virtually at a Sippin' Seven brewery, then display it to staff to secure those deals.
Redeem Ale Trail points for merchandise at Alachua County Visitors & Convention Bureau's location at 33 North Main Street in Gainesville.
Ready for your Oakmont lifestyle? Talk to ICI Homes here