If you're a recent resident at Oakmont, or someone considering the move, you might not know that one of Florida's iconic attractions is less than hour away.
That's right — a quick jaunt south on Interstate 75 and you can enjoy a slice of Florida's tourism history. We don't mean the mega-worlds in Orlando, although those have their charm.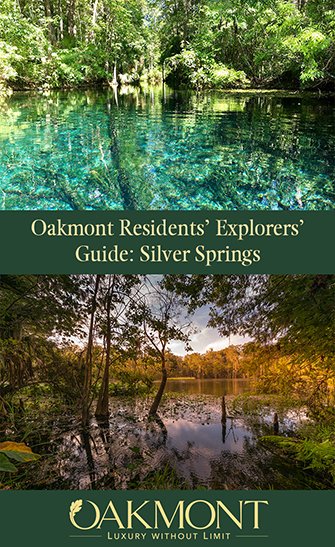 We're talking about something that existed well before Orlando's renowned attractions — Silver Springs State Park in nearby Ocala.
It's been around for a long time as a public attraction, so you may even have visited as a kid. But regardless of whether you've been to Silver Springs, or only heard of it as reference to something to see in Florida, it's time to take another look.
Here's our guide to exploring historic Silver Springs.
Where it is
Silver Springs State Park is located on the east side of Ocala — Gainesville's neighbor city to the south. Cruise out of Oakmont and take I-75 south. Once you reach Ocala, you have two exit choices to reach Silver Springs.
The northernmost choice is Exit 358, where you'll head east on State Road 326. Follow it until you reach the intersection with Baseline Road and turn right (south). Baseline Road becomes N.E 53rd Avenue, then N.E. 55th Avenue. It leads you straight to the intersection with State Road 40, and the entrance to the park.
The southernmost choice is Exit 352. Head east on S.R. 40 until you reach Silver Springs.
What it is
At its simplest, Silver Springs State Park encompasses one of the world's largest freshwater springs. Its clear waters flow east into the Silver River, then into the Ocklawaha River, which serves as a western and northern boundary of the Ocala National Forest before emptying into the St. Johns River south of Palatka.
The scenery — from the crystal-clear spring water, to the wildlife you may see in and around it — is stunning. Trees drip Spanish moss along waterways, and garden areas provide constant beauty.
What to do at Silver Springs
Silver Springs State Park is known familiarly as Florida's first attraction. It became a National Natural Landmark in 1971 and is famous for its glass-bottomed boats, which allow visitors to ooh and aah at the aquatic sights below them.
The glass-bottomed boats still cruise daily, with longer boat tours available on the weekends.
Visitors also can rent kayaks, canoes or paddle boards from the on-site outfitter — or bring your own equipment — and tour the main spring-fed waterways on your own or with a guide.
Another option? Rent a cabin or camp there. Hit one of the park's pavilions for a picnic or birthday party. Silver Springs even hosts weddings in its picturesque, historic settings.
And, lest you forget snacks, an on-site cafe and sweets shop will fill and sweeten you up.
Ready for your Oakmont lifestyle? Talk to us here.