Hankering to enjoy live music and other artistic performances? Residents of Oakmont in Gainesville couldn't be in a better locale.
Thanks to their hometown's renowned musical scene,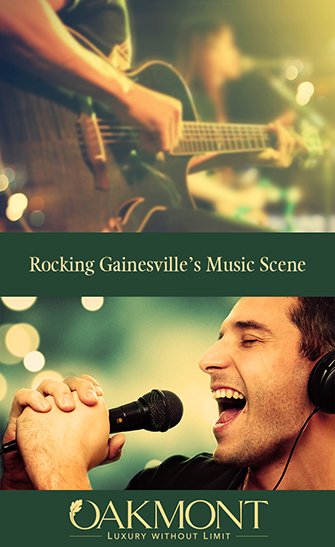 Oakmont residents are minutes from myriad live, local performances on almost any day of the week — even though Gainesville's premier master-planned community offers plenty to do at home.
Oakmont's Resident Club anchors social and meeting spaces, swimming pools, tennis and basketball courts, a fitness center and expansive event lawn. There's also a busy schedule of resident activities. Feel free to add to it by gathering the neighbors and starting a garage band!
Here's another advantage to enjoying Gainesville's musical scene — the presence of the University of Florida. Gainesville is UF's hometown too, and aside from the business, healthcare, sports and educational opportunities the university provides, its performing arts program gives students numerous opportunities to practice their crafts, particularly in on-campus performances as well as around town.
UF helps feed the city's vibrant arts and culture scene by attracting singers, actors and artists who display their work at area galleries, or showcase their musical talents in the city's nightclubs, churches, outdoor festivals and other venues. Some also decide to settle here and join the ranks of beloved, established Gainesville performers.
Read on for tips to exploring Gainesville's live musical fun.
A musical tradition
Many well-known musicians hail from Gainesville. Others spent formative time in the area and are associated with the city's music scene.
Google a definitive list (it's impressive) but, in short, you'll find these three luminaries: Tom Petty, Beverly Crawford and Bo Diddley.
A Gainesville native, Petty fronted his Tom Petty and the Heartbreakers band during his Rock & Roll Hall of Fame career. There's even a Gainesville park named after him.
Also a Gainesville native and singer, Crawford is a longtime gospel-music luminary.
Blues and rock legend Bo Diddley, another Rock & Roll Hall of Famer, was a Mississippi native who spent his final years in the Gainesville area. After he passed away in 2008, the city named Bo Diddley Plaza downtown in his honor, and today the Plaza rocks with free Friday outdoor concerts during the summer.
Start here
On a recent weekend, 23 live musical performances spanning many genres were on the calendar around Gainesville — and that's skimming the surface.
A professional jazz singer was scheduled at a UF venue, as were UF music students in recital. Off campus, the Gainesville Youth Mariachi Band played. Other bands delivered cover performances of famous pop stars.
To sample, pick your favorite genre and find a place it's being featured. Heartwood Soundstage is one Gainesville go-to for live music. It also offers production and recording capabilities.
The historic Hippodrome Theater in downtown Gainesville is another, offering movies, plays and other entertainment.
Many of Gainesville's top craft breweries also feature local music.
Celebration Pointe, a popular shopping district north of Oakmont, regularly offers free outdoor music performances.
Ready for your Oakmont lifestyle? Talk to us here.