Here's an experience and landscape you wouldn't expect to find in Florida: zip lining over natural canyons.
You also might not expect it to be close to home in Oakmont, either, but guess what? It is!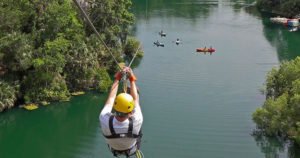 If you've lived in Oakmont for a little while, or in other parts of north central Florida, then you're probably aware this part of the state is known for its gentle, rolling hills, dense tree canopies and plentiful fresh springs.
Part of what shapes this unique topography is Florida's geography. The unseen backbone of the peninsula is ancient underground limestone. Fresh water circulates through layers of it to create what's known as the Florida Aquifer.
In areas where the layers of Aquifer are closer to the surface and water is under higher pressure, it bubbles up as springs. Central Florida is renowned for its many lakes, and, in this particular case, limestone canyons where springs have sprung and eroded the surface rock.
So, what unusual recreational fun does this bring to Oakmont residents? Head south to Canyons Zip Line & Canopy Tours in Ocala to find out.
Where you're going
Oakmont is only 37 miles — a doable 45 minutes or so — from all the aerial fun.
Head south from Oakmont via Interstate 75. As you near Ocala, look for Exit 358. Turn east off the exit onto State Road 326. At the first traffic light you encounter, turn left onto Northwest Gainesville Road. You'll see Canyons Zip Line & Canopy Tours approximately one-half mile ahead, on the right.
Through the air, with the greatest of ease
Canyons Zip Line & Canopy Tours' experiences are built around the natural lakes and canyons — and limestone cliffs — in this slice of neighboring Marion County. It's a landscape unique to this area and the state.
Select from five different zip line experiences that feature rides across the property's lakes and canyons, and through its thick, verdant tree canopies. There's even a zip line experience that takes place after dark, under moonlight.
Some of these experience include traversing elevated rope bridges. Many of the zip line routes send you soaring across the landscape for more than 1,000 feet, but don't worry — guides will take you through the entire sequence, plus teach you the "ropes" if you're a newbie.
Landlubbers specials
Whizzing through the air in a safety harness just not your thing?
No problem. Your group can do their high-flying thing, and you can do yours. Choose between a behind-the-scenes tour of the 100-acre facility and its amazing landscape. Or explore the same vistas on horseback.
Kids, and adults who like being a kid again, will enjoy mining for minerals, gems and more at the historic mine on the property.
Still seeking the perfect outdoor adventure? Take to the water and kayak one of Canyons Zip Line & Canopy Tours' lakes and canyons. Marvel at the "zippers" soaring by overhead!
Ready for your custom Florida home? Talk to us here.
Photo from http://zipthecanyons.com/big-cliff-tour.html