Once you've moved into your new custom Florida home at Oakmont, there are a few activities to calendar. Especially if you're unfamiliar with north central Florida and the Gainesville area.
Yes, we know moving into a new home can be exhausting, no matter how anticipated an event it may be.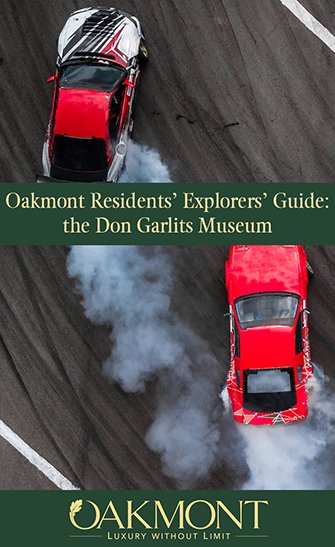 "Do something?" you say. "I just want to sleep!"
But once you're ready to acclimatize yourself to your new hometown — or entertain out-of-town visitors, family members or work guests — we've got you covered. The Gainesville area is rich in cultural, recreational and historic sites and activities. We're going to throw a few of them on your radar in series of posts you'll want to bookmark.
First up on your Gainesville fun agenda: a visit to the Don Garlits Museum of Drag Racing.
Take a motorsports road trip
Visiting the Garlits Museum accomplishes two things: you tour a really cool museum built and hosted by a National Hot Rod Association legend, and you discover Gainesville's neighboring city to the south — Ocala.
You might have heard of Ocala as the winter home of North American horse racing. Its rolling hills are dotted by live oaks and miles of manicured pasture, where many top thoroughbreds spend their early years.
But you're headed to see racers of a different kind.
The Garlits Museum is an easy 54-mile drive south on Interstate 75. It's located just off I-175, at 13700 SW 16th Avenue in Ocala. Look for billboards along the way. Once there, you'll find not only the Garlits Museum, but also the International Drag Racing Hall of Fame.
Who's Don Garlits?
He's a Florida native and one of the NHRA's most influential drivers, innovators and pioneers.
As of this writing, Garlits, a longtime Ocala resident, is a spry 80-something who still gives personal guided tours at his namesake museum several times each month.
Known as "Big Daddy," Garlits' racing career spanned more than four decades. He built the sport's first rear engine dragster and was the first driver to top six (!) miles-per-hour marks — the fastest at 270 mph — over a quarter-mile.
Garlits has won nearly every major NHRA event — many, several times over — and one of his top-fuel dragsters is exhibited at the Smithsonian Museum of American History.
What you'll see
Get ready to be wowed. Even if you're not a motorsports enthusiast.
The artifacts on display include more than 90 dragsters, among them many of Garlits' own top fuel cars, all named "Swamp Rat." Plus, rare cars from other drag racing luminaries and one-of-kind historic engines, parts and pieces.
Don't miss the Antique Cars building stocked with Garlits' collection of more than 50 unique machines, and the International Drag Racing HOF exhibit, which honors drag racing legends.
Above all, don't forget to cruise by the gift shop for a T-shirt or coffee mug.
Ready for your Oakmont lifestyle? Start the conversation here.