One of the perks of living at Oakmont is the Gainesville area's proximity to other cool places around north central Florida.
Want to visit all the world-class attractions in Orlando? They're less that two hours away, after an easy drive south on Interstate 75. Want to go to the beach? Again, less than two hours, this time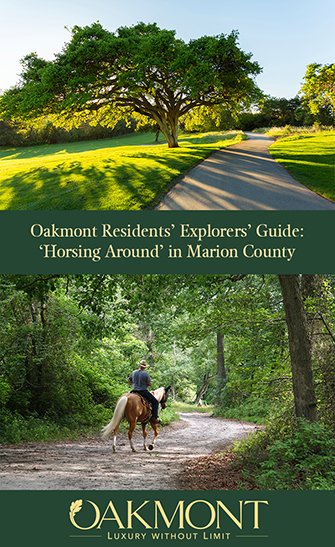 an easy drive east to historic St. Augustine's sands.
But, if you're looking for a fun experience closer to your new custom Florida home, head south to Gainesville's neighbor city of Ocala. It's known for many things — outdoor recreation and natural beauty being two big ones. But, it's principally known as the home to big-time thoroughbred horse farms.
In fact, Ocala and its home county of Marion are considered one of the world's top sites for training, breeding and equine events. Ocala is even officially named the "Horse Capital of the World." That's great news for Oakmont residents eager to explore their new surroundings. And especially for Oakmont residents who love horses.
Here's more good news: Ocala is less than 50 miles, or one hour, from Oakmont. Just jump on I-75 and head south. Once you're there, here's how to "horse around" in Marion County.
Why Ocala is a horse capital
Ocala's equine industry dates to the mid-1940s.
North central Florida's gentle rolling hills and temperate climate made it a perfect place for owners, trainers, jockeys, breeders and others in the industry who sought a warmer winter locale to nurture and train future generations of thoroughbreds.
And they're still doing it. Ocala-based farms have produced numerous champions, Horses of the Year, Kentucky Derby winners and Breeders Cup champions, to name only a few.
What you'll see and experience
Go on a tour of working horse farms or, if you'd like to be in the saddle yourself, book a guided trail ride. Depending which farms you visit, other options can include carriage rides, or venue rentals for your birthday party, wedding or other special occasion.
Some farms and equine facilities offer tours on-site. Local tour operators also specialize in tours to multiple farms and can build a custom itinerary to suit your interests.
Prefer to see these elite four-legged athletes perform? Ocala and Marion County can help you experience that too. During the winter season, go see the HITS (Horses in the Sun) Ocala Winter Circuit horse show. The HITS organization stages two competition events each December. Then, an extended 10-week event from January through March that features United States Equestrian Federation hunters and jumpers.
Want to "horse around" a bit more during north central Florida's balmy winter? Don't miss the Live Oak International show in early March. It features show jumping and driving events (yes, in carriages) and is held annually at the 5,000-acre Live Oak Stud farm in Ocala.
Visit www.OcalaMarion.com for more detailed information on all horse shows, farm tours and history of the area's thoroughbred industry.
Ready for your Oakmont lifestyle? Talk to us here.