Sometimes we all need to get out of the house, even when it's part of a marvelous amenity-packed, master-planned community like Oakmont. If you're an Oakmont resident seeking a quick getaway that's not your own back yard, we have a suggestion: Split Rock Conservation Area.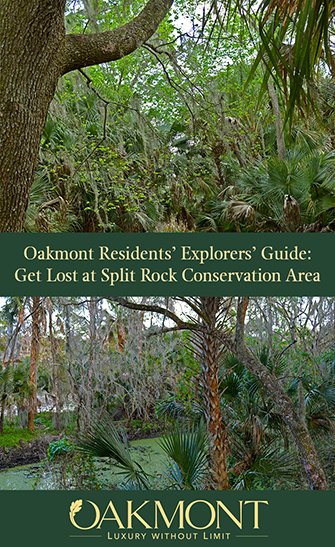 Actually, Split Rock Conservation Area is in your back yard. It's a city of Gainesville nature park that's just around the corner from Oakmont — only four miles away — and its unspoiled acreage might be exactly what you need to recharge and refresh.
The tricky (but fun!) part is you must walk or bicycle there. Its entrance is pedestrian-only and there isn't a parking lot. But if you're cyclist, runner or walker, or can ask someone to drop you off and pick you up, Split Rock Conservation Area is a slice of lovely wilderness right in metro Gainesville.
Here's how to get lost there.
Where it is
Split Rock Conservation Area's entrance is located off Southwest 20th Avenue. If you need a visual reference, 20th Avenue becomes 24th Avenue to the west, which is the main road that forms Oakmont's northern boundary and also where you access Oakmont's main entrance.
So, head east out of Oakmont on Southwest 24th Avenue. Go approximately four miles until you see the pedestrian-only entrance to Split Rock Conservation Area on your right — just northeast of the Portofino neighborhood.
Note the information on the welcome sign and take a deep, relaxing breath. Happy trekking!
Follow the loop
The Split Rock Loop Trail provides a 1.6-mile path around Split Rock Conservation Area. The conservation area's full 241 acres protect hardwood and evergreen forests, wetlands and wildlife. Whether you're hiking, cycling or running, it's best to stay on the loop trail. Split Rock can be swampy during wet seasons and it's simply safer to follow a prescribed trail that will loop you back to the entrance.
What you'll see
Split Rock is a slice of preserved north central Florida landscape that allows visitors to temporarily retreat from work hubbub, digital devices and other cares. You'd never know that Interstate 75 zips by to the east, functioning as one of its boundaries.
Hogtown Creek is the major water feature. Split Rock is where the creek disappears into the Florida Aquifer, the state's underground limestone backbone that circulates fresh water. It's also historical ground. If you see features that look old and conserved, enjoy examining them from afar.
Split Rock's oaks, pines, hickories and other trees lend a protective canopy overhead. Wind whooshing through tree tops and birds' chatter may be the only sounds you hear. Unless you pass other visitors enjoying the surroundings.
Wild flowers abound at Split Rock, as do ponds, huge limestone boulders (don't climb those) and sinkholes. It's a slice of real Florida increasingly difficult to find in our modern world. And, an enchanting place to call Oakmont's backyard retreat.
Ready for your Oakmont lifestyle? Talk to us here.