Living in a spacious, master-planned community like Oakmont, near all the cultural, recreational and educational riches of Gainesville, usually means you have everything you need within a few minutes' drive.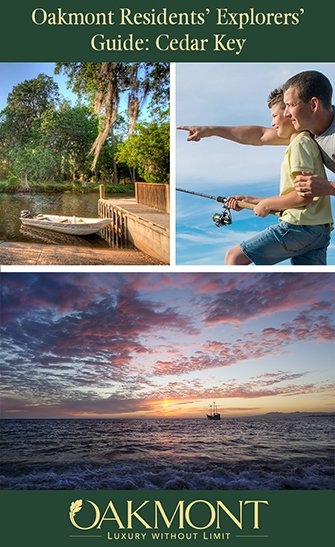 That includes entertainment, sporting events at the nearby University of Florida and a bustling north-central Florida metropolis.
At some point, however, you'll want to get lost.
And when you do crave that change of scenery, but don't want to literally get lost in the natural wilds of Alachua County's municipal parks, state parks and preserves, Cedar Key is your answer.
Perched on the edge of the Gulf of Mexico, this small fishing village will get you out of town and out of the ordinary faster than you can imagine. You just have to get there first.
Here's why you should day-trip to Cedar Key.
First, a bit of history
Approximately 56 miles or 51 minutes from Oakmont, Cedar Key is located where State Road 24 ends at the Gulf. Leave Oakmont, head south on Parker Road, and turn right on SR 24. Drive west until you see salt water.
The eastern red cedar trees that once dominated the surrounding area gave Cedar Key its' name.
It dates to the early and mid-1800s, alternately as a seaport, lumber town for northeastern pencil factories, the then-western end of the Florida Railroad, and always as a fishing village.
The late 1880s advent of Henry Plant's Tampa-based railroad line, coupled with an 1896 hurricane that destroyed the lumber mills on nearby Atsena Otie Key, short-circuited Cedar Key's industrial growth.
Sport fishing, tourism and farm-raised clamming operations are today's principle drivers. The string of keys on which the town of Cedar Key is sited boasts approximately 800 full-time residents.
Cedar Key's fun, funky vibe
With historical structures aged by salt and sun, old Florida is alive here.
You cross four bridge to reach "downtown" Cedar Key, and Dock Street is the main attraction. It extends out over the water, where narrow, elevated pavement is lined with shops, bars, art galleries and other pleasant diversions.
Many folks use golf carts here, island-hopping bridges to get around.
It's an eclectic, laid-back atmosphere complete with a small white-sand beach and jaw-dropping sunsets across the Gulf.
What to do here
Cedar Key is home to three festivals that attract big crowds. Its annual fine arts festival occurs in late March or early April. Its seafood festival is in October and a rousing pirate festival happens in November.
Dig into the town's fascinating history at two local museums, the Cedar Key Historical Society & Museum and the 18-acre Cedar Key Museum State Park.
Non-populated Atsena Otie Key is accessible only by boat. But, it's a swell kayaking destination that includes a historical cemetery, lumber mill ruins and pristine beaches. It's now part of the Cedar Key National Wildlife Refuge.
Time to go get lost!
Ready for your Oakmont lifestyle? Talk to us here.