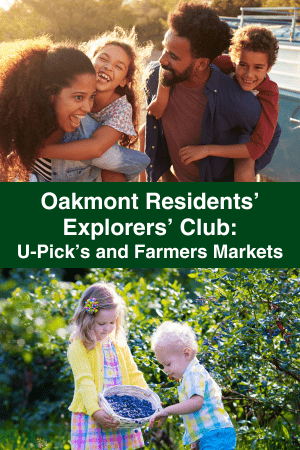 One of the pluses of Florida living is the year-round abundance of fresh produce with each season's goodness available at nearby u-pick farms and farmers markets.
That's yet another great reason to consider building or buying a new custom Florida home at Oakmont. It's the area's top master-planned community, located only minutes from Gainesville's vibrant historic downtown and the University of Florida and Santa Fe College.
Oakmont also offers the Gainesville area's top resident amenities, along with proximity to UF Health facilities, a stellar arts community, and amazing outdoor recreation. All of this makes a very strong case to consider Oakmont for your new Gainesville address.
But we're here for the food!
Whether you're already an Oakmont resident or strongly considering it, here's a fun guide to local u-pick farms and farmers markets.
Find it yourself at a U-Pick farm
U-pick farms offer a little work for a lot of delicious results. Most post the dates they're open to the public on websites and socials, with times and helpful instructions.
If you've never picked fresh veggies or fruit, it's real treat, especially for children and grandchildren. Farms often provide picking containers, but go prepared with your own — or plastic bags — to transport your pickings back home.
One great example is Florida's winter strawberry season. It often extends well into March depending on weather whims, and the Sunshine State supplies a lot of U.S. grocery stores with the bright red berries during winter months.
Crossroads Farms & Apiary at 3831 Northwest 156th Avenue just north of Gainesville offers a u-pick experience convenient to Oakmont. Pick your own strawberries during their open weekends. Once strawberry season ends, sample their natural honey produced by the farm's family-run apiary. It comes in multiple Florida-favorite flavors.
Buy it at farmers markets instead
Farmers markets are a timeless source of fresh produce, homemade treats, and goodies made by local artisans.
Fortunately for Oakmont residents, Gainesville is home to numerous well-known farmers markets, with new ones popping up all the time. The Alachua County Farmers Market at 5920 Northwest 13th Street (also U.S. Highway 441) is a good place to start. Like many in the area, it opens early on Saturday mornings (8:30) and usually is done — or sold out! — by noon.
Other possibilities: the Haile Farmers Market at the Haile Village Center at 5213 Southwest 91st Terrace is minutes from Oakmont. Also the Newberry Farmers Market in nearby Newberry, and the High Springs Farmers Market in nearby High Springs.
Don't forget food trucks
The Gainesville area boasts a thriving food truck scene, usually on point with nearly any cuisine trend or timeless tastes.
Ask Oakmont neighbors, sales associates or residents for their tips on where to find favorite food trucks. Many are fixtures at Gainesville's popular craft breweries, special events and monthly festivals.
Ready for your Oakmont lifestyle? Talk to us here.