Chasing the little white ball from tee to fairway to green can make a great morning or afternoon excursion if golf is your game.
Luckily for Oakmont residents, the city of Gainesville and Alachua County are home to numerous quality courses.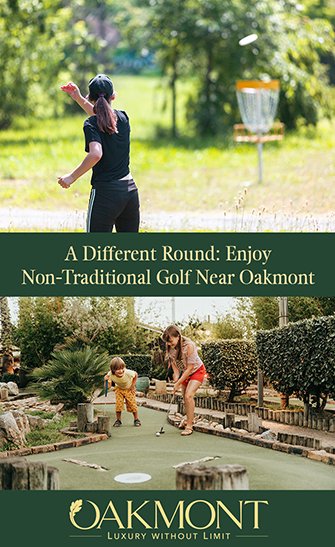 But a bag of clubs, cart rental fees and lessons to cure a chronic slice aren't the only route to an enjoyable golfing experience.
How about miniature golf and disc golf? Both are based on traditional golf, but take the game in different directions. They're fun when you're seeking a golf-like alternative, or a break from a traditional round.
And, luckily for Oakmont residents again, their hometown of Gainesville and its surrounding communities boast numerous disc and miniature golf facilities.
Here's a guide to enjoying non-traditional golf near Oakmont.
Miniature golf
This is what's more commonly known as "goofy golf" or "putt-putt." Many of us have played miniature golf on vacation or group outings, and these small courses — hence the "miniature" in the name — usually could fit inside a large parking lot rather than over hundreds of acres.
Many also feature outlandish themed setups such beaches, fairy tales, treasure hunts and the like, and are supposed to be laugh-a-minute fun.
The Pink Flamingo Diner, a quick 30 minutes north of Oakmont in the neighboring town of High Springs, offers an 18-hole miniature course, a full-service diner, and — get this — a course-side ice cream and coffee station.
Snack on soft-serve ice cream in a yummy waffle cone while on your way to golfing glory!
Disc golf
You'll head back to a more expansive, traditional golf course for this version of the game, but one tailored to "discs" or "Frisbees," instead of clubs and balls.
The game is the same — you tee off on each hole and work your way from fairways to greens, tossing your disc toward the goal of making par or birdies (we won't mention bogeys). Instead of tapping a ball into a cup on the green, you try to toss your disc into a metal basket.
Fun, eh? You bet, and once again, Oakmont's convenient to several popular disc golf facilities in Gainesville and Alachua County. Try your skills on the courses at High Springs Sports Complex, Jonesville Park Disc Golf and Northside Park Disc Golf.
TopGolf
Need more golf-oriented entertainment? The TopGolf location in Orlando is only 122 miles and a couple hours south of Oakmont — an easy day trip. If you're unfamiliar, TopGolf is a multi-level, stadium-like driving range that uses digital targets to focus your drives and swings.
It's a challenging way to compete against yourself or some friends without real-life detours through the rough and water hazards! TopGolf also boasts a sports-club atmosphere with restaurants and bars. Event space is available along with lessons.
Ready for your Oakmont lifestyle? Talk to us here.