Oakmont residents know the residential and business growth happening all over busy, booming Gainesville, and are most familiar with it on the city's southwest side, near their community. Here's another harbinger of growth you might not have noticed: new schools!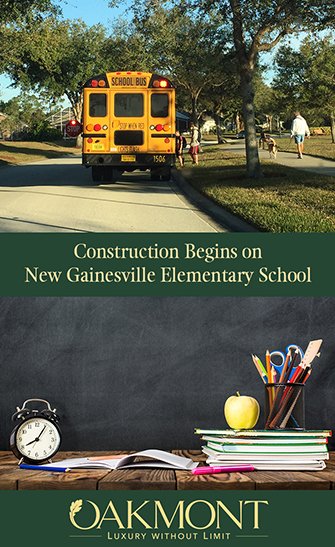 Construction has begun on a new Gainesville elementary school around the corner from Oakmont. It's part of the Alachua County Public Schools district and is scheduled to open in fall 2021 with an approximate enrollment of 773 students.
That means another option for Oakmont residents with school-age children, and for prospective Oakmont residents seeking a new home in Gainesville, who also have school-age children.
You won't do better than Gainesville's premier master-planned community. Six of the area's most sought-after builders are active here with versatile floor plans geared to every stage of life — growing families, to active adults, to focused career types. And, don't forget the completed inventory homes perfect for quick move-ins.
Oakmont's amenity menu is second to none in Gainesville. A roomy and popular Residents Club, resort-style swimming pool, basketball and tennis courts, event lawn and year-round resident activities make Oakmont the no-question choice for your new Gainesville home.
But, back to that elementary school. New schools can positively impact everyone's property values, so here are the details on that new Gainesville elementary school.
New Elementary School "I"
Unnamed as of this writing, it's for students from Pre-K through Grade 5.
The new school is located on Southwest 122nd Street (also Parker Road) across from Diamond Sports Park — 1.5 miles from Oakmont's entrance off Southwest 24th Avenue.
Per the Alachua County Public Schools website, the design largely is based on one used for Meadowbrook Elementary School. Meadowbrook opened in August 2012. It's north of Oakmont at 11525 Northwest 39th Avenue if you'd like a sneak peek (sort of) of New Elementary School "I's" future appearance.
The design and permitting phases are complete and construction has begun! As of this writing, it's on schedule and budget for a fall 2021 opening.
SchenkelShultz Architecture did the design. Parrish McCall Construction is managing the site.
Who's paying for the new Gainesville elementary school
Glad you asked.
Funding for New Elementary School "I" is from the Half-Cent for Schools sales tax project (which adds a half-cent to existing sales tax) that was approved by county voters in November 2018. Ongoing property taxes also contribute to funding.
This combined Half-Cent, property-tax revenue is feeding reconstruction, new construction such as New Elementary School "I," renovations, security and property improvements, and HVAC and roof replacements at various schools. Each Alachua County Public School also received $50,000 for facility projects specific to each school.
The Half-Cent for Schools project means local taxpayers are investing in their public schools. And the construction of New Elementary School "I" will help meet the educational needs of new residents in southwest Gainesville and Oakmont.
Ready for your new Oakmont lifestyle? Talk to us here.