In the old days, if you were lucky, your "subdivision" amenities might've been only a community swimming pool. We're generalizing for fun here, but decades ago, resident amenities weren't the must-have options they are for today's home buyers.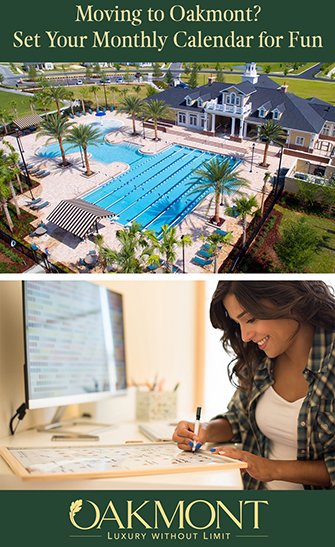 It's a good thing that trend has changed. Because if you build or a buy a new custom Florida home at Oakmont, in Gainesville, you'll have so many resident amenities, you'll likely have to clear your calendar to enjoy them!
How about monthly activities such as family movie night, and bunco and bingo nights? Seasonal fun such as trunk-or-treating at Halloween and Easter Egg hunts in the spring? Adult wine-tasting nights? All of it centered around the most amazing amenity center of any master-planner community in Gainesville.
Read on for highlights of what lifestyle coordinator Kaytlan Forret is planning for Oakmont residents.
Monthly events
Almost anyone can enjoy bingo and bunco (an easy game played by trying to hit certain number combinations while rolling dice), and if you've never played, now's the perfect time to learn.
Bingo nights are the first Saturday of every month and bunco just recently went on the monthly schedule. Check in at Oakmont's residents club to see which night it landed on (ha ha).
Also a big activity star at Oakmont? Family movie nights. They take place on the final Friday of each month, typically with pizza, popcorn and candy as munchies. The event begins at 6:30 p.m., with the movie rolling at 7 p.m.
Quarterly events
These are bigger celebrations that can take up an afternoon or most of a day. Oakmont's spring festival happens ever March, and the fall festival is held in September. The most recent fall festival included bounce houses for the kids, food trucks and a petting zoo.
Look for Oakmont community "garage" sales on the event lawn at the residents club, which occur about two-four times a year. It's a great way to have fun AND get some decluttering done.
Seasonal events
These, of course, can bring out the kid in all of us.
Oakmont residents circle up their automotive trunks and tailgates at the residents club and enjoy a fun, safe community Halloween celebration.
In December, a kids-only event includes story time with Santa and the opportunity to wear pajamas while doing so. A cookie exchange, ugly-sweat contest and carriage rides were other, recent December hits with Oakmont residents.
February includes cookie decorating for kids, and adult activities as well.
Yeah, you want to live here!
Ready for your Oakmont lifestyle? Talk to us here.