Did you know Oakmont is located near one of Florida's top areas for enjoying non-motorized watercraft? The Gainesville-Alachua County region is home to some of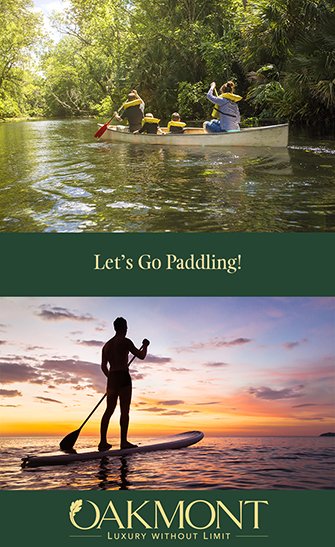 the Sunshine State's best-known freshwater springs, lakes and rivers, including two designated Florida paddling trails. More on the latter below. But just so you know, we're not talking about a zippy jet ski or bass boat. We mean watercraft propelled by humans wielding paddles — kayaks, canoes and paddleboards.
If this sounds strenuous, we promise non-motorized watercraft aren't all work and no play! Imagine floating down a crystal-clear north central Florida spring run or river while basking in sunshine and listening to birds sing. That sounds like a recreational winner, right?
The good news is you won't need to journey far to experience it, nor wonder how to, if you don't have your own gear.
Come with us for a primer on Gainesville-area paddling options.
Where to find "paddling trails"
Oakmont's master-planned environs is chock-full of fun amenities and activities, but you will have to leave the neighborhood to do this.
A quick Google reveals numerous state and county parks that feature freshwater springs to the north and west of Oakmont. The town of High Springs (catch that name?), approximately 22 miles northwest of Oakmont, is near Poe Springs Park, an Alachua County park that contains the county's largest spring and is close to the Santa Fe River. Note: as of this writing, Poe Springs Park is open only on weekends. Call before you go.
Even better, Oakmont is situated between the Gainesville area's two Designated Florida Paddling Trails — the Potano Paddling Trail at Newman's Lake on the east side of town, and the Santa Fe River Paddling Trail near High Springs.
A Designated Florida Paddling Trail is a mapped route through a specific state waterway. You can download a guide for each trail that includes maps, mileage and access points, and, in many cases, a photo guide.
The trails are grouped by regions and labeled as beginner, intermediate and advanced-appropriate. For example, the Newman's Lake portion of the Potano Trail is beginner-friendly. The Prairie Creek portion requires more skill.
The state program began in the 1970s and now includes more than 4,000 miles of trails. There are 11 Designated Florida Paddling Trails in the north-central region; the Potano Paddling Trail and the Santa Fe River Paddling Trail are among them.
How to paddle
If you have your own padding gear, carry on and have fun. If you're new to kayaking, canoeing and paddleboarding, local outfitters can rent the equipment, teach you the in, outs and techniques, and lead guided excursions.
As with any new activity, it's best to learn from experienced paddlers, instructors and guides. It's also important to remember that a comfortable hat, sunglasses, sunscreen and bug spray always are smart ideas when enjoying Florida's great outdoors.
Ready for your Oakmont lifestyle? Talk to us here.