A different sort of outdoor excursion awaits just around the corner from Oakmont. Located on Gainesville's west side, the Kanapaha Botanical Gardens offer a unique way to experience Florida's semi-tropical beauty.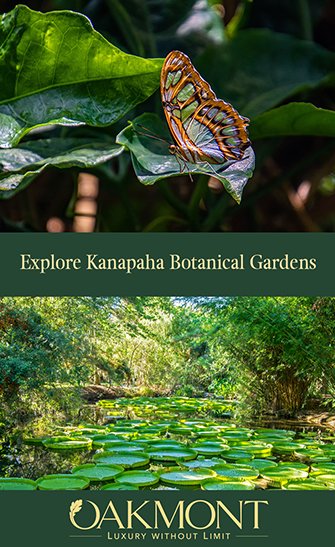 It's only 6.5 miles and a 13-minute drive southeast of Oakmont and checks several boxes for any resident seeking gardening inspiration.
Maybe it's not even gardening. Maybe you're ready for an outdoor activity that doesn't involve a lawn mower, sweaty workouts, or trip to the hardware store. Or, for a new entertainment option for visiting friends and family.
Kanapaha Botanical Gardens does not resemble the garden center at the hardware store (although the latter is a helpful resource). Instead, its trail reveals amazing vistas. You'll see beauty everywhere, but also plants you didn't know existed — definitely selfie-worthy. And, it's close enough for return trips.
Here's how to enjoy Oakmont's botanical neighbor.
Get there quickly and easily
We're not kidding about Kanapaha Botanical Gardens being close to Oakmont. The following is the most direct route.
Exit the community and turn right (east) on SW 24th Avenue. After a few miles, turn right on SW 75th Street. Follow it south to Archer Road. Turn left on Archer Road and head east again. Kanapaha's entrance will be on your left.
What you'll experience
Kanapaha Botanical Gardens encompasses 68 aces that border the south end of Lake Kanapaha.
On some ponds, you'll find Victoria lily pads as large as your dining table. Kanapaha is also known for its bamboo — the tree-like Chinese Royal bamboo is a showstopper — and Asian snake arums, an exotic bloomer. The bamboo is Florida's largest such public collection.
A paved 1.5-mile trail winds through each garden vista, leading visitors from discovery to discovery. Waterfalls splash and sculptures sprout from landscaped surroundings (don't miss the dragon waterfall). Small foot bridges lead visitors over streams.
Kanapaha's herb garden in the Southeast's largest. A children's garden delights all ages. In early spring, the azalea garden blazes with color. In cooler months, it's the camellias' turn. Each Kanapaha garden has been artfully created and planted to spotlight certain species — a fern garden, hummingbird garden, rose garden and butterfly garden, among many others.
See if you can outwit the ornamental-grass-outlined gravel maze near Kanapaha's entrance building. Birds and waterfowl are abundant. There's even an arboretum and sinkhole overlooks.
What you can do
Bring Fido if Fido is leashed and manner-able (but he or she can't attend special events).
Speaking of special events, Kanapaha Botanical Gardens hosts several each year. The annual October plant sale is popular. The gardens also are a magnet for weddings.
As of this writing, daily admission is $10 for adults and $5 for children ages 5-13. Support the gardens further by investing in a membership, volunteering or making a donation.
Note: it's always wise to call ahead or check online for current hours and safety procedures.
Ready for your Oakmont lifestyle? Talk to us here.