The University of Florida recently earned noteworthy acclaim in the U.S. News and World Report's Best Colleges for 2020 report. It tied for 7th place with the University of California, Santa Barbara (UC-Santa Barbara) in the report's annual rankings for best public universities. That's a trajectory that keeps rising for the school. But UF as it's known, and its hometown, are very much of the moment. And the university is giving new Gainesville residents even more impetus to consider it for work, career or educational opportunities.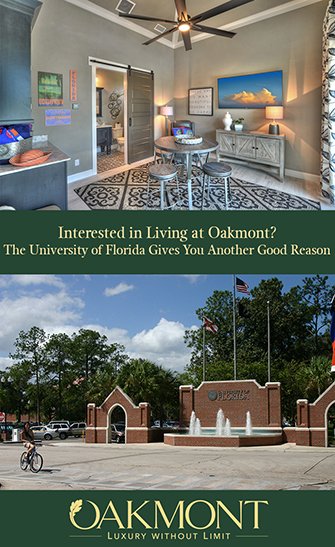 New home buyers targeting Gainesville, Florida have as many driving forces behind their reasons to move to this area. People move to this fun, bustling north central Florida city for work, personal or retirement reasons. Many also move here for educational purposes. Gainesville has been the University of Florida's hometown since 1906, and both the city and surrounding region boast a history that dates back centuries.
Here's why UF gives you more good reasons to move to Oakmont.
Being a top-10-ranked school is a big deal
U.S. News and World Report is known for its statistical rankings and thorough research in many industries. Companies and institutions in finance, health, real estate, automotive and travel sectors often tout its' ratings.
It's no different in education. UF's top-10 designation for 2020 marks the third year in a row that the school has climbed in the overall ranking for best public universities. It tied for 8th in 2019 and tied for 9th in 2017.
Per U.S. News and World Report's definition of "best public universities," the category includes schools overseen by the state. UF is part of the State University System of Florida.
And that's not all
The school's recent achievement in the "best public universities" category can't be understated. Governor DeSantis even held a press conference on the topic.
But, the school also excelled in other U.S. News and World Report categories, achievements that should not be ignored. Florida is tied with the University of California for #34 in the national universities category. These universities also conduct groundbreaking research. Learn more about the University of Florida and its' U.S. News and World Report Rankings here.
Ready for your Oakmont lifestyle? Talk to us here.