We could go on quite a while about all the jokes about what it's like to live in the Sunshine State. Some are truly funny, some a bit too close to home, and a few are just inaccurate.
But, we're not spinning a comedy routine. Instead, we want you to focus on our master-planned community in Gainesville that provides you with plenty of rebuttal material for those friends or family members who poke fun at your impending Florida move.
If Gainesville is your destination, whether for work, retirement or family reasons, it's a good choice. It's centrally located with access to all parts of Florida, and its history, culture and 21st century growth should snuff the snickers.
Read on for how to enjoy Florida living without all the cliches.
Everything looks like a beach house
This couldn't be more wrong. But if you've never been to Florida, or only spent your time here in vacation high-rises on a beach, we kind of understand that assumption.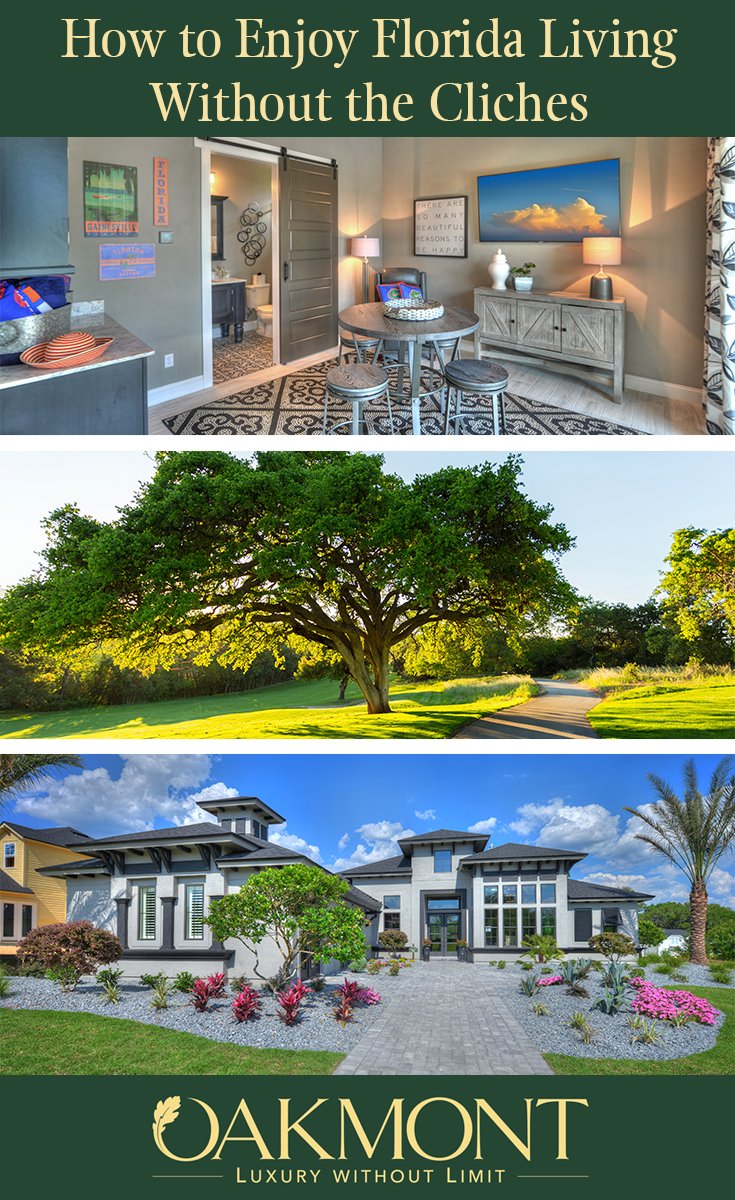 The truth is that Florida is like every other state. In each, there are home-building styles germane to that particular region, along with current, popular and ground-breaking residential communities in urban, suburban and more rural areas.
Gainesville — an area where many historic structures have been preserved and restored — is no different. At Oakmont, new-home buyers can choose from a variety of floor plans ranging from just under 2,000 square feet, to over 4,000 feet.
The elevations can be as individual as the homeowner, but any sore-thumb design would stick out in Oakmont's lovely setting. The property just might influence choices in a good way, with its mature live oaks, pines, ponds, easy hills and a Resident's Club that features timeless, columned architecture.
Take that, beach-house cliche.
Alligators are everywhere
Florida does have lots of lakes, ponds and rivers, and alligators like fresh water. You can never say never.
But odds are you'll have to look for one to find one. They just don't appear, snapping in your driveway or swimming in your pool, unless you live next door to a body of water.
That said, Oakmont does have some picturesque ponds, so simply keep an eye out when you're outdoors. Simple as that. And install a screened-in cage around your pool at your new Oakmont home. It'll repel more common wildlife than alligators. Trust us.
Only snowbirds live here
Millions of seasonal residents do live here, usually during the October-April timeframe, to escape winter weather in colder parts of the country. You might like to do that too.
And one reason you might be interested in the Gainesville area, or already committed to moving here, is because of the wide variety of folks who call it home.
Did we mention Gainesville is the home of the University of Florida? And all the industries, research centers, sports, arts and culture that major universities foster in their hometowns?
It means a never-ending influx of knowledgable, fun, smart and diverse neighbors at communities just like Oakmont — and throughout Gainesville. Besides, some snowbirds you do meet may envy you for living in Florida full-time!
Ready for your Oakmont lifestyle? Start the conversation here.