If we polled Oakmont residents on the conveniences of modern life and technology, most would probably give us a big thumbs-up on high-definition televisions and appliances that respond to voice commands.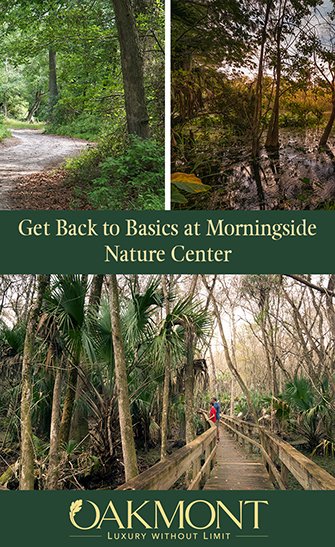 Remember when clapping to activate a light fixture was a big deal?
We know Oakmont residents love their state-of-the-art homes, a magnificent Residents Club and its surrounding amenities, all with a location that's unequaled in Gainesville.
But sometimes it's helpful to pull the plug on tech and civilization. Even when your civilization is Oakmont with its spacious neighborhoods, ample activities and natural beauty.
When that's you, explore the Morningside Nature Center and Morningside Living History Farm. Both are Gainesville city parks and a century (or two) away from the 21st.
Here's how to get back to basics at Morningside Nature Center.
Where and what it is
Drive northeast from Oakmont to the east side of downtown Gainesville. Morningside Nature Center and its Living History Farm are at 3540 East University Avenue, a few miles west of Newnans Lake.
More than 400 acres here are devoted to preserving the native forests, landscapes and history of Oakmont's north-central Florida hometown. Gainesville and Alachua County are renowned for their natural resources. Morningside Nature Center puts visitors in a microcosm of it.
The Living History Farm transports visitors back to the late 19th century, for a taste of what local farming life was like for area pioneers.
What to do at the nature center
The 278-acre nature center features longleaf pine forests which depend on controlled burns for their life cycles. You'll also see many other tree varieties, wildflowers, shrubs and wildlife.
There are seven miles of trails in the tract, which means you can get away by happily traipsing through cypress domes (damp, marshy areas that cypress trees love), flat lands and sandy hills, among other vistas.
Go on autumn wildflower walks every Saturday in October.
Looking for an inside activity? The educational building offers many materials and exhibits, among them live reptiles and amphibians.
What to do at the farm
At the Living History Farm, hark back to 1870 on the Alachua County frontier. The farm is anchored by the Hogan Cabin, a circa-1840 structure built by the McCarroll family, who immigrated here from Ireland. Accompanying it is a primitive kitchen, a one-room schoolhouse, a barn and many friendly farm animals who are heirloom breeds.
The free Barnyard Buddies program happens each Wednesday from 3-4 p.m., for visitors who'd like to feed the animals. Vegetable donations for the animals to chomp, always are welcome.
On the first Saturday of the month, September through May, living history demonstrations show you what it took to do daily life in 1870.
And, on the Saturday following Thanksgiving, celebrate the annual cane boil and fiddle contest.
Ready for your Oakmont lifestyle? Talk to us here.