Florida's natural beauty takes many forms, depending where that beauty is located. It's a big state! But some of its most striking landscapes aren't found near its beaches. And yes, we know how gorgeous those are. We at ICI Homes live here too.
For proof, go west — and inland — by a couple hours from Florida's northeast Atlantic Coast beaches. Here, you'll find the city of Gainesville smack dab in the midst of northern Central Florida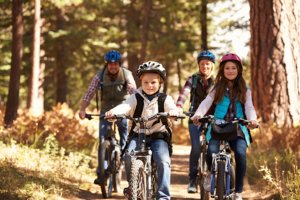 and Alachua County. This is Gator country, home to the University of Florida and its namesake athletic teams.
Although the Gainesville area shines as UF's hometown, it's also known for its flora and fauna and recreational riches. All the above is why we sited one of our signature communities here — Oakmont. It's named for the masses of live oaks on the 556-acre property, which is located just west of downtown Gainesville and UF, and offers one hint of what future home buyers can expect.
Follow along as we show you how attractive nature is at Oakmont.
The Flora
You'll notice it as soon as you arrive on our doorstep — those impressive oak trees.
The live oaks and other oak species synonymous with Florida's semi-tropical and tropical climates are the true horticultural stars in the central part of the state. Of course you'll see plenty of palms and palmettos, but the oaks, with their massive crowns and huge sweeping limbs, dominate landscapes in this part of northern Central Florida.
They certainly do at Oakmont; we named the community after them! But they also have a lovely supporting cast. Look for several varieties of pines (longleaf is familiar to Floridians), conifers and other hardwoods such as sycamores.
Flowering crape myrtles and glossy, massive magnolias are other plantings you'll typically find near Oakmont.
The Fauna
Did you know gopher tortoises have their own 45-acre conservation area at Oakmont? Now you do!
These tortoises are common to inland, or "upland" Central Florida. Because gopher tortoises are listed as a threatened species under Florida law, ICI protects them too. Those found on the Oakmont property now have their own new home.
And yes, there's a reason the neighboring University of Florida uses the Gator nickname. And yes, there's always a chance you could spot an alligator in a pond (one reason Floridians use screen enclosures around their pools). But if you do, admire from afar.
Pose for photos with Albert and Alberta, the UF mascots, when you spot them on campus or at events around town.
The Recreation
If you buy a new custom Florida home at Oakmont, you'll have all the recreational options you could wish for right down the street.
The 6,000-square-foot Residents Club anchors the amenity enclave here, including a state-of-the-art fitness center, community gathering spaces, outdoor tennis courts, an outdoor basketball court, playgrounds, a lake-sized, resort-style pool — an amphitheater! — and open, manicured fields for napping, Frisbee-tossing, or what-have-you.
Did we mention fitness trails? There are miles of those throughout the Oakmont community, ideal for walking, running, stroller-pushing and cycling. If you want to explore, nearby city and county parks — many of which incorporate trails — will keep you moving.
Ready to explore Oakmont? ICI Homes has you covered. Begin here.