If you live in Oakmont or soon will, you likely know your hometown of Gainesville, Florida, is the hometown of the University of Florida. This major public university is a player statewide, nationwide and around the world on many fronts, be they educational, service or research-oriented. But you might not know "UF," as it's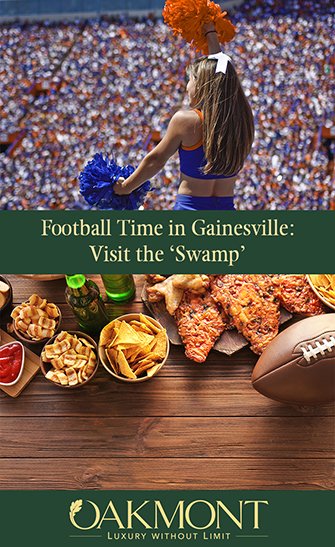 popularly called, is also renowned for its Southeastern Conference athletic programs, particularly football.
And while the University of Florida is a magnet for jobs, industries and education, there's no denying the attention commanded by national-championship-caliber competition.
So don't be shocked that home football weekends are huge events in Gainesville. The Gators' home, Ben Hill Griffin Stadium, is the largest stadium in the Sunshine State (a capacity of 88,548) and most seats usually are filled.
But did you know you can visit the stadium almost any time? Without the crowds?
Indeed, you can. Here's how to visit the 'Swamp."
About the 'Swamp'
Legend says former head coach Steve Spurrier, a standout Florida quarterback who won the 1966 Heisman Trophy, gave Ben Hill Griffin Stadium its popular nickname during the 1990s.
The Swamp was built in 1930 and naturally has been modernized and added to ever since. It sits at 157 Gale Lemerand Drive, right in the heart of the UF campus, and is no small thing. You won't overlook it.
Go on non-football weekends or weekdays and be diligent where you park. Public parking on the UF campus can be challenge, especially during the school year.
Once safely parked, head to the Swamp on foot (or skateboard, what-have you). Hey, we told you it was huge! Explore its exterior terraces and pathways, then head inside.
The Swamp is open to the public
Yes, go inside. What other major athletic facility provides daily public access?
We know they're out there. But Ben Hill Griffin Stadium really is open daily from 7 a.m., to 7 p.m., unless closed for special events or holidays. Check the stadium Facebook page for closures before you head to campus. Enter at Gate 18, but don't go on the field. It's always off-limits.
Otherwise, run steps for cardio! Sit in one of those nearly 90,000 seats and marvel at scale, the omnipresence of Florida's signature orange and blue colors. Climb up to the orange walls that say, "This is…the Swamp," and border lower-section seats in end-zone corners.
Selfie-document it.
Another place you can visit is the Bill Heavener Football Complex, which is open to the public Monday through Friday from 9 a.m., until 5 p.m. It contains private spaces you can't go, of course, but public areas spotlight the history and accomplishments of Gator football.
Before you leave the Swamp, be sure to find the big bronze statue of a life-sized bull gator outside the stadium. Another selfie moment.
Ready for your Oakmont lifestyle? Talk to us here.