If you're into Major League Baseball, you probably know the Milwaukee Brewers are known as the "Brew Crew" to fans, media and others involved in the sport.
That's because Milwaukee, Wisconsin has long been home to some of North America's iconic breweries. Thus, the team's formal nickname (Brewers) and the informal "Brew Crew."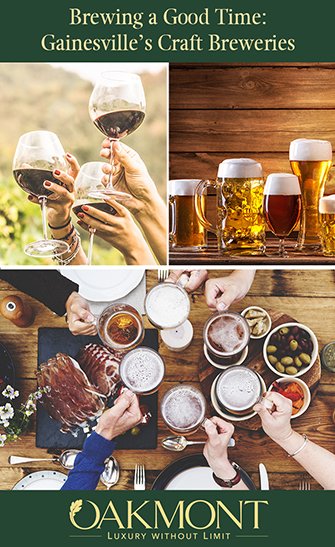 We'll leave it to you to do the historical googling, but did you know Gainesville, Florida also has its own Brew Crew?
Yup!
The craft-brew craze is flourishing in this north central Florida city, and Gainesville's ever-innovative restaurant and bar scene feeds its creativity. Many local craft breweries keep the experience fun and unique by offering regular stops by food trucks.
The list below isn't all-encompassing, but it's a good start to your sampling adventure. Don't forget the designated driver!
24703 SE 193rd Ave in Hawthorne
A true taste of Florida. It's a subsidiary of a large local blueberry grower that uses fruit not sold as fresh. Island Grove makes blueberry wines from Florida-grown blueberries. The winery, located southeast of Gainesville in itty-bitty Island Grove, also makes sangria and wines from fruit blends. Island Grove sponsors a Sangria 5K Dash at the winery in November that benefits Heart of Florida Youth Ranch.
201 SE Second Ave., Suite 101 in Gainesville
A Sarasota-based chain that opened its first Gainesville location in September 2018. It's known for food-flavored beers. Favorites are a coffee and toasted coconut porter and a PB&J pale ale.
1001 NW 4th Street in Gainesville
Headquartered in a circa-1896 building that housed a local ice company, the brewery is in a 1903 addition. The tap room is in a 1920s addition. The old well that serviced the ice company now services Cypress & Grove. Another part of the historic building will be the brewery's event space. It currently serves six staple brews and homemade, fruity sodas.
618 NW 60th St Suite A in Gainesville
Blackadder Brewing Company specializes in Belgian-style beer and a more traditional pub atmosphere. They feature a whopping forty selections on tap along with wines and homemade sodas. They even won a gold medal in the 2019 Best Florida Beer Competition.
3650 SW 42nd Ave in Gainesville
You might be tempted to sign up for their emails because their website prompt says, "Because who reads work emails?" Swamp Head focuses on Florida-themed ales, pilsners, stouts, IPAs and the like. Its brewers use local ingredients and flavors in often-creative ways.
1220 SE Veitch St in Gainesville
Named for a geological classification of natural freshwater springs. There are a lot in this part of Florida, and a "first magnitude" is considered the most powerful, propelling more fresh, cold water, at a faster rate. First Magnitude offers five year-round beers and many specialties. Also ciders and wines.
Ready for your Oakmont lifestyle? Talk to us here.