You're in for lip-smacking treats if you make your new Gainesville home at Oakmont.
One of the perks of living in a college town is the preponderance of restaurants, bars and grills. All those University of Florida and Santa Fe College students must eat! So do the million of visitors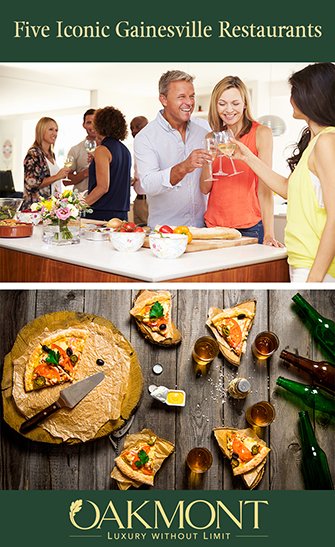 who stream through the area for business and vacations.
In fact, consider Gainesville a culinary incubator. This north-central Florida city not only nurtures tomorrow's brightest education-wise, it also nurtures a creative, eclectic dining scene.
We hope you'll make good use of your Oakmont kitchen. But when it's time for someone else to tend the stove, there's no better way to explore your new hometown than to sample its eateries.
Here's a quick primer on five iconic Gainesville restaurants.
The Swamp
The Swamp is across the street from the "Swamp" — otherwise known as Ben Hill Griffin Stadium, home of UF's football Gators. The building that houses the restaurant dates to 1914 and was restored following a 1993 fire. The restaurant opened in 1994 and has been a game-day tailgating destination ever since. The Swamp's a casual place for everyone on campus and anyone who wants to enjoy a taste of campus. Sunday brunch is a specialty, and there's even a Doggie Menu for pooches.
Satchel's Pizza
Satchel's Pizza has been a Gainesville dining institution since 2003. Long known for its imaginative pizzas and calzones, Satchel's big salads are a thing too. Homemade sodas and desserts are available, as are local craft beers. But you really must snag a pie at Satchel's just to see the place. Part of the building incorporates an old VW bus, a greenhouse, an airplane, outdoor dining and a playground. Much of the stained-glass artwork you'll see was crafted by the owner, Satch.
Dragonfly Sushi
The place to go for classics and new ideas. Dragonfly Sushi's kitchen utilizes top-shelf seafood, local produce and isn't afraid to have a fun with menu composition and ingredient pairings. You'll find California Rolls and many more, but also tofu, ramen, tempura, soups and salads. And sake! Check out Dragonfly's lunch, dinner, happy hour and beverage menus. It's just east of the UF campus, in downtown Gainesville.
The Top
Looking for a spot with a cool, current vibe? The Top's a good choice. Located in downtown Gainesville, it offers nightly specials, Sunday brunch and a menu that mixes traditional favorites with newfangled twists. A fried-chicken and kimchi sandwich, anyone? Seriously, a thumbs-up to any place with mix-and-match, build-your-own-grilled-cheese sandwiches. There are plentiful vegan and vegetarian options, too.
Harry's Seafood Bar & Grille
Date night time! Harry's Seafood Bar & Grille is in the heart of downtown Gainesville, offering sidewalk dining and Cajun specialties. The location will romance you — the circa-1887 Opera House. The restaurant has been here for more than 25 years and is one of five locations around the state.
Ready for your Oakmont lifestyle? Talk to us here.