Oakmont residents live in a "fruitful" part of Florida, and that's an intended pun.
Oakmont's hometown of Gainesville sits surrounded by jaw-dropping history, natural resources and recreational areas, but also never far from that other important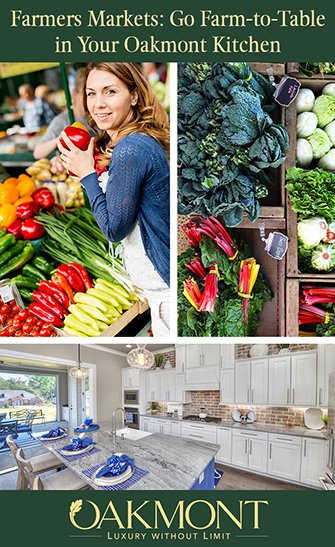 facet of the state's economy — agriculture.
You'll see cattle ranches, plant nurseries and U-pick farms on the regular around here. Know what else you'll see? Bountiful farmers markets. Organized by various entities, each market's "flavor" comes from who's selling what, who's buying it, and the community hosting the market.
All are known for local Florida produce, homemade food stuffs and even some crafts, depending which market you visit.
Here's a quick guide to some of Gainesville's best-known local farmers markets.
First, do your homework
If you're an experienced farmers-market shopper, keep reading. If not, it means buying your fresh produce and homemade food stuff and crafts from the people who grew it or made it.
That's a wonderful opportunity to learn more about fruits, vegetables, plants, eggs and so on. Recipe tips happen all the time. If fresh shell peas are in season, but you don't know what to do with them, just ask. Someone will know.
Also don't assume there will be card-payment machines available. Take plenty of cash and bags to hold your purchases. A snack, bottle of water and sunscreen are good ideas too.
Our tip: shop early. In-demand items sell out fast.
Alachua County Farmers Market
The Alachua County Farmers Market dates to 1972 and is operated by local growers within a 50-mile radius. It's open each Saturday from 8:30 a.m., until noon.
This market is located in an open-air metal pavilion at the intersection of State Road 121 (also NW 13th Street) and U.S. Highway 441, near the Alachua County Tag office.
Union Street Farmers Market
The Union Street Farmers Market is located in downtown Gainesville, at 111 East University Avenue, along the red-brick-paved Bo Diddley Community Plaza. It's open each Wednesday from 4-7 p.m.
This market was founded in 1996. Its slogan is to "make the world a better place, one vegetable at a time."
Haile Farmers Market
Haile Village Center is the shopping area near the residential community of Haile Plantation southwest of Gainsville. It hosts a farmers market along its streets each Saturday from 8:30 a.m., until noon.
Like others around Gainesville, the Hale Farmers Market spotlights growers and producers of local food, plants and crafts. It dates to 1998.
High Springs Farmers Market
Want a road trip with your market adventure?
Head northwest of Gainesville to the neighboring historic town of High Springs. You'll find the High Springs Farmers Market at 115 NE Railroad Avenue. It operates every Thursday from noon until 4 p.m.
Produce, baked goods, plants and crafts of all kinds are on the shopping menu.
Ready for your Oakmont lifestyle? Start the conversation here.