Construction is proceeding on "Elementary School I" on Parker Road just west of Oakmont. Once completed (late summer 2021, as of this writing). it will be the newest elementary school in the Alachua County Public Schools' lineup.
But, did you know its location is where it is for a reason?
ICI Homes, the developer of Oakmont and one of the community's preferred builders, donated the land for "Elementary School I.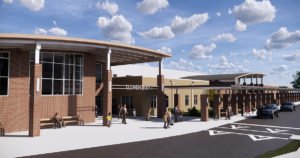 The school's Parker Road (also known as Southwest 122nd Street) location is around the corner from Oakmont's main entrance near the Parker Road-Southwest 24th Avenue intersection, only 1.5 miles away. The school is being built on the east side of Parker Road, next door to Oakmont, and across the street from Diamond Sports Park.
ICI Homes' donation totals 20 acres — plenty of room for buildings, parking lots and activity areas surrounding the future school.
Oakmont is a large community — 550 acres — and with its tremendous growth and other residential and commercial growth on the west side of Gainesville, infrastructure, services and facilities must follow.
Education is an important part of all that. ICI Homes' contribution helps ACPS officials meet the instructional needs of current and future students, plus prevent overcrowding at several existing schools near Oakmont. New schools also can attract new residents and boost property values.
As "Elementary School I" takes physical shape, check here for updates about the new school's enrollment, name and eventual capacity. Below is the latest, as of this writing.
Elementary School I construction milestone
The first concrete wall for "Elementary School I" was raised on September 10, 2020. Gainesville-based Parrish McCall Construction is the contractor.
The new school's design, done by SchenkelShultz Architecture, is said to resemble Meadowbrook Elementary School, which opened in August 2012, just north of Oakmont, at 11525 Northwest 39th Avenue.

Its funding comes from the Half-Cent for Schools sales tax project (which adds a half-cent to existing sales tax) that was approved by Alachua County voters in November 2018. Ongoing property taxes are another revenue source.
Ready for your Oakmont lifestyle? Talk to us here.