Institutions of higher learning not only serve students, faculty and staff, they're also important parts of their local communities. Gainesville's two hometown institutions — the University of Florida and Santa Fe College — offer many activities, events and venues that are open to the public.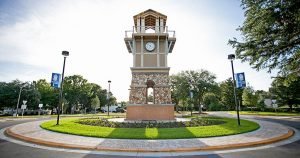 And, if you're a resident of Oakmont, Gainesville's premier master-planned community, you might even have moved here to study or work at UF or Santa Fe.
Access to world-class academic, research and cultural resources are one more reason to consider Oakmont as your new Gainesville neighborhood. It's on the city's booming southwest side, minutes from the UF and Santa Fe campuses, and serves up the best resident amenities in town (a Residents Club, resort-style swimming pool, basketball and tennis courts, fitness center, event lawn and activity calendar).
But, let's focus on some of those institution-of-higher-learning amenities; specifically, Santa Fe College's planetarium and teaching zoo. Both have important academic and curriculum offerings, but both also are open to the public, often on a regular basis and for special events, and both are unique: a zoo and Star Trek-level equipment aren't on every university's roster.
Read on for more about Santa Fe College's planetarium and teaching zoo
About the planetarium
Formally known as the Kika Silva Pla Planetarium, this resource entertain and awes visitors and students from both Santa Fe and UF.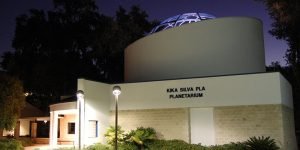 It's north central Florida's only planetarium, it seats up to 60 people, and is outfitted with state-of-the-art projection and screen equipment. Astronomy and star-gazing are only a few of the experiences available.
Most Fridays at 7 p.m., the Kika Silva Pla Planetarium hosts an hour-long presentation called "Florida Skies," a seasonal tour of the solar system. At 9 p.m., Music 360 is a 45-minute video and graphic extravaganza set to music that utilizes the Planetarium's dome.
But there's more to do. School field trips, community events (the Planetarium hosts a private event) and other shows are open to the public. Note: most shows and events require tickets/fees.
About the zoo
The Santa Fe College Teaching Zoo offers students the opportunity to earn a degree in zoo animal technology.

Combined with academic requirements and hands-on training, it prepares students as future zookeepers.
The Teaching Zoo is open to the public every day except major holidays. Hours are 9 a.m., until 3 p.m., and admission fees are charged. The 10-acre complex is home to a host of amphibians, birds, invertebrates, mammals and reptiles. A roster of the current inhabitants is available at the zoo's website.
Visitors can support the Santa Fe College Teaching Zoo by purchasing a membership (perks assured) and supporting the onsite gift shop. The zoo also celebrates Earth Day, special species days which introduce visitors to a certain animal, Zookeeper Days, and a Halloween event, among other activities.
Ready for your Oakmont lifestyle? Talk to us here.
Images from https://www.sfcollege.edu/