If you're an outdoor enthusiast seeking a new custom Florida home in the Gainesville area, you won't do better than Oakmont.
Located on Gainesville's bustling west side,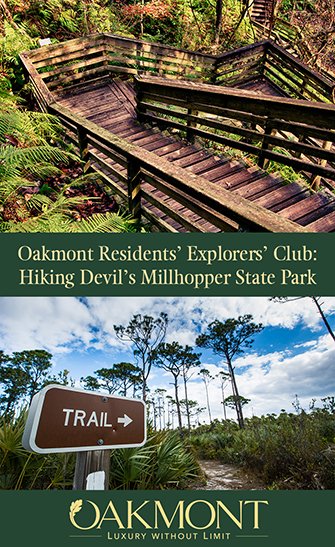 Oakmont is the area's top master-planned community. It's convenient to excellent schools, plentiful shopping, dining and services, and just minutes west of downtown Gainesville and the University of Florida.
Although Oakmont is also convenient to many of the area's outdoor activities, some of the best are right at home — a resort-style swimming pool, tennis and basketball courts and a spacious event lawn outside Oakmont's Residents Club. There's even a fitness center to help outdoor enthusiasts tune up for outdoor adventures!
But being active outdoors is what we're talking about, and this part of north central Florida offers everything from glistening springs to hiking and cycling trails, to fishing and wildlife viewing.
One of the more fascinating choices is Devil's Millhopper Geological State Park. It's one of 18 National Natural Landmarks in Florida and preserves an ancient sinkhole. Each Saturday morning, visitors can participate in guided walks to the bottom of the sinkhole.
Sound intriguing? Read on for more about this unique geological treasure.
Where is it?
Devil's Millhopper Geological State Park is approximately 20 minutes and 12 miles northeast of Oakmont. Head west out of Oakmont's main entrance and turn right (north) on Southwest 122nd Street (Parker Road). Follow it to State Road 26 (Newberry Road) and turn right (east).
At the intersection with Northwest 98th Street, turn left and head north. Go approximately two miles, then turn right (east) on Northwest 39th Avenue. Follow it approximately four miles and turn left on Northwest 43rd Street. Head north for a mile, then turn left on Northwest 53rd Avenue/Millhopper Road. You'll see the park entrance at 4732 Millhopper Road.
A unique park experience
We don't know why this massive sinkhole is called Devil's Millhopper. Old stories hint at many sources, but ask the park ranger who leads your guided walk for his or her interpretation.
We do know you'll enjoy an amazing climatological experience. Follow your guide 120 feet into this depression, which was created ages ago after water eroded the limestone underneath the surface, causing the ground to collapse inward.
Sinkholes — or sinks — are common geological phenomena in Florida. The Devil's Millhopper sinkhole's size and depth created waterfalls, a rain forest at the bottom and a haven for wildlife. Fossils and artifacts found in its depths are exhibited at the park.
You'll descend and ascend via a sturdy boardwalk with tiered stairs. Saturday's free guided walks begin at 10 a.m. at the visitor center and last about an hour. The only cost is the $4 entry fee per vehicle and $2 for cyclists and pedestrians.
Aside from exploring the sinkhole, Devil's Millhopper visitors can hike the park's nature trail, browse interpretive exhibits and attend outdoor yoga classes, also on Saturday mornings.
Ready for your Oakmont lifestyle? Talk to us here.