Classic pass-times like bowling, roller skating and visiting the local library have never lost their appeal. Your hometown of Gainesville not only has venues for all three, but is the right size to access them in a timely manner. And, all three are mostly indoor activities, which makes them perfect for winter nights or rainy days.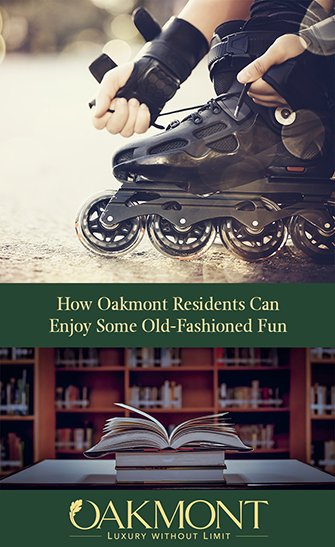 Don't hear us wrong! Outdoor activities are never off the table here thanks to Florida's year-round subtropical climate, and some actually might be more pleasant in cooler months. Conversely, it also might be nice to enjoy an indoor activity away from summer heat.
Still, fun things never get old, regardless of the time of year. We suggest you rediscover a youthful favorite, or introduce younger family members to one or more of these classic activities.
Here's how Oakmont residents can enjoy some old-fashioned fun.
Not just for the old-fashioned
These classic pass-times are great for any and all folks who enjoy a bit of competition, being active and exercising their minds.
You can do all three in the bustling collegiate town of Gainesville. Home to the University of Florida and prestigious research and medical industries, you better believe it has plenty of activities for students, professionals and families to blow off some steam.
Splitz Bowling Alley, located at 1301 NW 76th Boulevard offers not only the traditional bowling experience — tacky shoes and all — but a laser tag arena, arcade, and a sports bar and grille.
Nearby, (at 1311 NW 76th Boulevard), Skate Station Funworks serves up the roller skating experience for everybody, whether you dust off those old wheels or rent a groovy new pair. If you and your peeps want to try something new, choose between mini-golf, rock climbing, trampoline jumping, bounce houses for kids, and a jungle gym for those age 10 and under.
Finally, the Alachua County Library District serves the region with 12 branches, plus bookmobiles that travel Gainesville and the county. Among its resources are meeting rooms, events, research assistance, and, of course, books and magazines.
Don't forget the fun in your own backyard
One of the perks of living at Oakmont is the activity calendar centered around the Residents Club. If you haven't checked it out, visit the club and look for upcoming events.
There's plenty to do for adults and kids of all ages. We have a large Resident's Club, tennis courts, a resort-style pool, and more! Prefer more structured social events? A monthly family movie night brings everyone together. Doggie Play Time is another monthly social for furry friends and their owners. Zumba classes are offered twice a week. Yoga classes also take place weekly.
And that's only a sample!
Ready for your Oakmont lifestyle? Talk to us here.