Living in Gainesville's premier master-planned community means convenient access to almost anything you need for work, home and school purposes. There's no shortage of services, entertainment and outdoor recreation in this part of north central Florida. But, how about adventures? We have one for you — the Carson Springs Wildlife Conservation Foundation.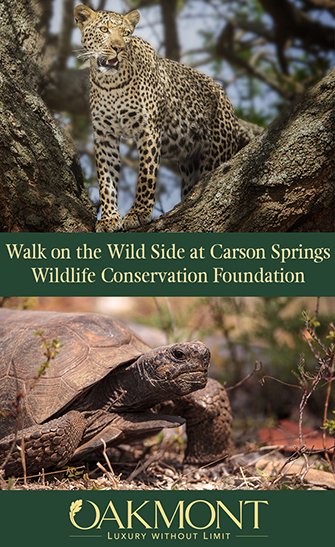 It's a Gainesville-area refuge for wild animals of many kinds, and enough off the beaten path (wild animals need a lot of room) to engender a sense of anticipation.
Yet Carson Springs is still close enough to end the day at home in Oakmont regaling friends and neighbors with selfies and videos.
This 275-acre refuge is populated by rescued big cats, lemurs, hyenas, owls, warthogs, foxes, tortoises and even a rhinoceros. Many animals are rare or endangered, or failed pets or zoo retirees. Carson Springs is a nonprofit whose owners hosts tours of the facility and fundraising events throughout the year.
Here's how to walk on the wild side at Carson Springs Wildlife Conservation Foundation.
Where to find it
Carson Springs Wildlife Conservation Foundation is located northeast of Gainesville. It's approximately 28 miles and 40 minutes from Oakmont, which makes it an easy day trip.
To get there, exit Oakmont's main entrance and turn left. Turn right on Parker Road and head north to State Road 26. Turn right, and follow it east into downtown Gainesville, past the University of Florida and U.S. Highway 441.
At the intersection of State Road 24 (also Northeast Waldo Road), turn left and head northeast, past the Gainesville Regional Airport. Turn left on Northeast 55th Place, then a quick right north onto Northeast 39th Street (also County Road 225).
Stay on CR 225 (you'll drive for a little while), past Gainesville Raceway, eventually curving right and east until you see Carson Springs on your left. It's at 8528 CR 225. Click here for Google Maps directions.
What you'll see
The Carson Springs Wildlife Conservation Foundation opened in 2007. It's owned and operated by a couple who formerly worked in the horse racing industry. Lions, tigers and other big cats are a huge draw, but rare maned wolves are an example of the many other wild animals you'll see on your visit.
Henry the Indian rhino is a Carson Spring star. He's nearly 40 years old, truly built like a tank and is spending his retirement years here. Baby hyenas are as cute as they sound, and the recent addition of a black Jaguar is sure to be a hit.
But, be aware you can't just drop by. All visits and tours must be booked, including special events on Valentines Day, Halloween, Christmas and New Years.
A walking or riding tour is offered each Saturday morning. Check Carson Springs' website for pricing. The refuge also hosts private events for a fee, and partners with organizations for research and conservation education.
Ready for your Oakmont lifestyle? Talk to ICI Homes here.