There are more than a few reasons why the city of Gainesville is a great place to live.
Its convenient north-central Florida location is one, along with being the hometown of the University of Florida, a center for nationally-recognized healthcare facilities, and a beautiful, historic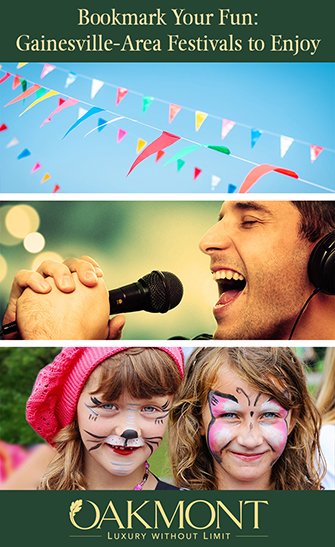 region full of immense natural resources.
But, know what else makes Gainesville an awesome place to live? Festivals!
There's never a shortage of celebrations, parties and special events in the Gainesville area. The influence of higher education, museums, gardens, historic sites and a strong arts and crafts community, keeps the fun going year-round.
And, when you buy a new custom Florida home at Oakmont, you're only minutes away from all of it.
Here's a look at Gainesville-area festivals to bookmark.
Gainesville Native American Festival
A history lesson, cultural awareness and wow! experience. You'll sample traditional foods, dancing, music, arts and crafts, and skills demonstrations. The Gainesville Native America Festival is a new event, which debuted in March 2019 at the Alachua County Fairgrounds.
Santa Fe College Annual Spring Arts Festival
The April 2019 event was the 50th anniversary. Santa Fe College is one of two institutions of higher learning here, along with UF. The two-day Santa Fe College Annual Spring Arts Festival takes place downtown. Expect an amazing market of original artwork in many mediums, as well as food, drink and fun for the family.
WestFest Music Festival
Head west of Gainesville to the small town of Newberry. Its April 2019 WestFest Music Festival was held at the local Lois Forte Park and features country-rock performances. The event is free, casual and family-friendly. Grab the beach chairs and blankets, pack snacks, or patronize the food trucks. Kids also can enjoy fun and games.
The Annual Pioneer Days Festival
Take another road trip to one of Gainesville's picturesque neighbors. Nearby High Springs, northwest of Gainesville, hosts a weekend-long celebration of Florida's earliest, settled times. The April 2019 event was to be the 43rd annual Pioneer Days Festival. Expect period music, entertainment, arts and crafts and skills demonstrations. Hint: High Springs is known for its antique shops.
Kanapaha Botanical Gardens Fall Plant Sale and Orchid Show
What better way to beautify your new Oakmont home than by jump-starting your planters and flower beds with gorgeous bloomers that thrive in the Florida climate? Not only does this fall sale celebrate the garden's birthday (October 1986), it's also your chance to enjoy the premises admission-free and gawk at magnificent orchids as well as the entire grounds.
Downtown Festival and Art Show
Another must-see, especially if you're new to Oakmont and Gainesville. The two-day Downtown Festival and Art Show takes place downtown in November and is put on by the city's parks, recreation and cultural affairs division. Arts of all kinds are on attendees' entertainment and shopping menus.
Don't miss your own spring and fall festivals at Oakmont! Check with lifestyle coordinator Kaytlan Forret (find her at the amenity center) for the latest info.
Ready for your Oakmont lifestyle? Talk to us here.