May is blueberry season in Florida and residents of Oakmont are in a perfect location to enjoy fresh Florida blueberries right from the source.
It's easy to stock up on produce year-round in Florida — agriculture is one of the state's top industries — but since it's blueberry season,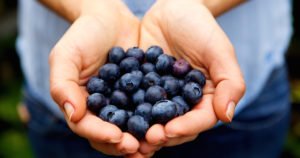 we'll highlight a few U-pick farms to score some home-grown ones. Plus, we'll offer a suggestion for exploring Gainesville's farmers markets.
Enjoying local produce is another reason why living at Oakmont is a good decision. It's Gainesville's premier master-planned community, and convenient not only to downtown dining and entertainment, the University of Florida and Interstate 75, but also outlying outdoor recreation, shopping and day-tripping destinations.
Make picking your own blueberries or shopping local farmers markets one of those day trips. Your guide is below.
Pick your own
Of course you can find blueberries at grocery stores and farmers markets, but any fresh fruit or vegetable tastes better if you picked it, right? So round up Oakmont neighbors or take the kids to Aunt Zelma's Blueberries and Hidden Bear Farm.
A family-owned farm since the 19th century, Aunt Zelma's is located in Island Grove, southeast of historic Micanopy in Alachua County, off U.S. Highway 301 and near Orange Lake. Aunt Zelma's operates all year, but its U-pick operation is concentrated on the weekends during blueberry season (generally late April through May).
Aunt Zelma's is open from 9 a.m., until 5 p.m., on the seasonal weekends. Grab one of their buckets, pick as many blueberries as you like, then a staff member will weigh your haul and price it by the pound. Pack a lunch or snack and take a break in the picnic area. You'll even find blueberry recipes on Aunt Zelma's website.
Head north on U.S. 301 to find Hidden Bear Farm, another family-owned farm that opens to the public for a U-pick blueberry season. It's located in Hawthorne, off County Road 1474 just east of U.S. 301. Hidden Bear Farm opens from 9 a.m. until 3 p.m., on U-pick weekends.
Blueberries aren't the only product you can snag here. Ask about Hidden Bear's fresh eggs and homegrown palm trees for your garden.
Farmers markets
Luckily for Oakmont residents, these are plentiful in the Gainesville area, reflecting the health of the regional farming community and consumer demand for local foods.
Most markets take place once a week, usually on a weekend day, at locations throughout Gainesville. Shoppers will find all sorts of fruits, vegetables and homemade goodies, but bring your own bags and arrive early for the best selection.
A good place to start is the Alachua County Farmers Market. Its website includes a list of other Gainesville markets, and many farms participate in multiple markets — Hidden Bear Farm is at the Alachua County and the Haile farmers markets, for example.
Ready for your Oakmont lifestyle? Talk to us here.