Moving to Oakmont, the master-planned community in Gainesville, means you and your household will have more amenity options that simply sitting around a swimming pool.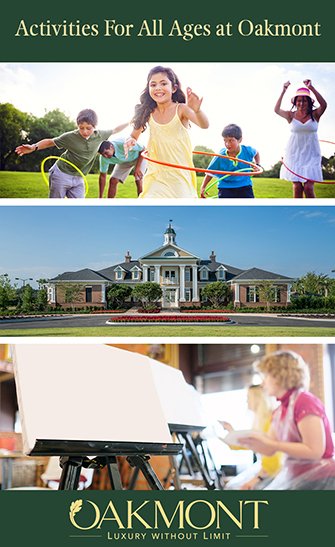 Although we've got an awfully cool one, and pool lounging is never a bad idea.
The truth is, Oakmont's amenity center, anchored by a beautiful, multi-purpose residents club, is unparalleled in greater Gainesville. So are the activities for all ages. There's no shortage of inspiration for families or kids — just ask Kaytlan Forret, Oakmont's lifestyle coordinator. But Kaytlan hasn't forgotten the hundreds of moms, dads, grandparents, single folks and other adults who call Oakmont home.
Here how all ages can stay entertained at Oakmont.
A busy community
Oakmont's calendar fills up fast! Monthly, seasonal and annual events are an easy way to meet new neighbors or socialize with the ones you know.
For example, everyone can enjoy family movie nights on the final Friday evening of each month. It happens at the residents club and snacks are provided. Attendance is rising — approximately 40-50 residents are regulars — so come see the show.
A December holiday celebration was huge hit for all ages, with an ugly-sweater contest, cookie exchange and popular horse-drawn carriage rides. February saw a Valentine's Day cookie decorating party for the kids. And of course, a fun Easter Egg hunt was held in April.
Additionally, there are non-holiday specific events to be had, such as the Spring and Fall Festivals and community garage sales.
Let's go adult-ing
So what can the more mature among us enjoy at Oakmont? Plenty. And the options continue to multiply.
There's a wine night, which features wines from around the world. We host bingo and bunco game nights, as well as special craft nights (one of which involves adult beverages). Forret, who works with the community to plan events, says many Oakmont residents want more adult activities, and tapping into their creativity is one avenue to accomplish that.
"Sip and Paint" is a popular arts activity where participants paint their own, original work of art under guidance from experienced artists. The added attraction is enjoying adult beverages as you paint.
Another is "Hammer & Stain," which requires a bit more elbow grease. Participants build artful plaques, photo frames, stools and many other fun pieces to display in their homes.
Forret uses Oakmont residents' feedback to fine-tune future events. She says testing new events and talking to residents afterward is extremely helpful for everyone.
For example, residents' suggestions from their first community garage sale allowed them to tweak the next event. And, residents have suggested that "Sip and Paint" be held on a weekend night as opposed to a weekday.
Don't forget those amenities
Maybe organized activities aren't your adult-ing thing. But you can still enjoy Oakmont's amazing amenity center at your leisure and socialize when you're up for it.
The residents club accommodates gatherings of all sizes. A fitness club is on the premise. Outside is an enormous resort-style pool, tennis courts, a sand volleyball court, basketball court, event lawn and playground. Go have fun!
Ready to live your Oakmont lifestyle? Start the conversation here.